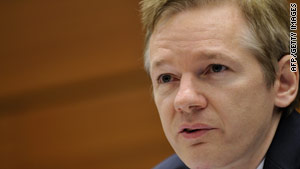 A formal court procedure to decide whether to arrest Assange scheduled for Thursday afternoon.
STORY HIGHLIGHTS
The Stockholm court issues an international arrest warrant
The court also ordered Assange's arrest in his absence
Assange faces five counts
Assange is the founder of WikiLeaks
(CNN) -- The Stockholm Criminal Court on Thursday issued an international arrest warrant for WikiLeaks founder Julian Assange on probable cause, saying he is suspected of rape, sexual molestation and illegal use of force.
The court also ordered Assange arrested in his absence, which requires Swedish authorities anywhere in the world to detain Assange if they come across him. Sweden's director of prosecutions, Marianne Ny, had requested the arrest in absence.
"The background is that he has to be heard in this investigation and we haven't been able to get a hold of him to question him," Ny said earlier Thursday.
Assange faces five counts that appear related to two incidents, according to the request Ny filed with the court.
He faces one count of rape and one count of sexual molestation related to an instance around August 17 in Enkoping, just outside Stockholm. He then faces two counts of sexual molestation between August 13 and 18 in Stockholm, and one count of illegal use of force between August 13 and 14, also in the capital.
Assange could be sentenced to at least two years in prison if convicted, according to the document.

Assange accused of rape

WikiLeaks founder walks out of interview

WikiLeaks releases secret war documents

Why the world needs WikiLeaks
It is the first time authorities have mentioned probable cause. The molestation charge, previously mentioned in the case, has also been upgraded to sexual molestation.
In a news release issued after the court's decision, Assange's British lawyer said the charges stem from consensual sexual relationships his client had with two women.
"Only after the women became aware of each other's relationships with Mr. Assange did they make their allegations against him," lawyer Mark Stephens said in the statement.
Stephens also said neither he nor Assange "have ever received a single written word, at any time, in any form, from Swedish authorities on the Swedish investigation against our client."
The media has been the only way they've learned substantial information about the investigation, Stephens said. He called it "a clear contravention to Article 6 of the European Convention, which states that every accused must be informed promptly, in a language which he understands and in detail, of the nature and cause of the accusation against him."
It was unclear where Assange was Thursday. Stephens told CNN he could not reveal his client's location.
Swedish prosecutors announced over the summer they were investigating Assange in two separate cases of rape and molestation. Ny said then there was reason to believe a crime had been committed, but that more investigation was necessary before she could make a final decision.
Assange has maintained he is innocent, telling the Arabic-language television network Al-Jazeera the accusations were a "smear campaign."
Assange repeatedly declined to answer questions about the rape and molestation investigation and what the allegations may mean to his organization when he spoke to CNN's Atika Shubert in October.
"This interview is about something else. I will have to walk if you are ... if you are going to contaminate this extremely serious interview with questions about my personal life," he said. Moments later, he walked off the set.
CNN's Per Nyberg in London, England, contributed to this report.
FOLLOW THIS TOPIC