STORY HIGHLIGHTS
Hand-reared cheetahs will be moved from Kent, south west England, to Kenya
It is hoped their offspring will be released into the wild
Kenyan Wildlife Service: Plan goes against long-standing policy on cheetah conservation
The species was declared extinct in India in 1952
London, England (CNN) -- Two European-bred cheetahs are set to take part in a pioneering program to release their young back into the wild in an attempt boost their declining numbers.
As part of the program the hand-reared cheetahs Boumani and Zina will soon be swapping their green fields in Kent, south east England, for the arid Savannah of Kenya early next year.
It is hoped the pair will breed there in a 500-acre enclosure and that their offspring will be taught to hunt by their mother Zina during extended excursions into the adjoining Tsavo national park.
This method of reintroducing captive-bred cheetahs into the wild has never been attempted, says their keeper Jonathan Ames.
"My dream is to prove that captive-bred cheetahs can be successfully placed back in the wild, it is something that has been very unsuccessful [in the past]," Ames told CNN.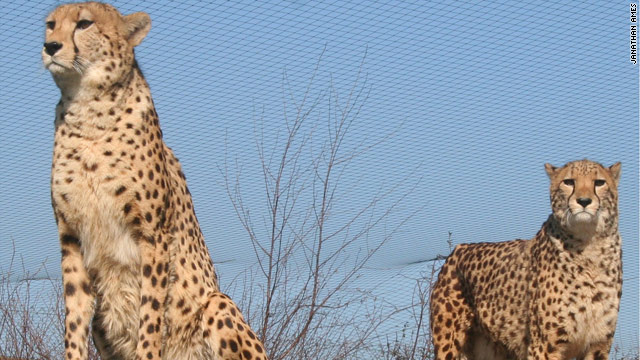 Gallery: Cheetahs
"There is no point in breeding cheetahs in captivity if they can't go back into the wild," he adds.
However, a statement given to CNN by the Kenyan Wildlife Service said: "While the plan to re-introduce captive-bred cheetahs into the wild sounds helpful in theory, it goes against Kenya's long-standing policy on cheetah management and conservation.
"Therefore, this planned experiment is most unlikely to be discussed, let alone allowed."
It added that Kenya's National Cheetah Conservation and Management Strategy guides all efforts to conserve cheetahs in the country, prescribing actions that are needed for long term cheetah conservation. It says captive breeding is not one of them.
"Cheetahs in captivity teach us about nutrition, breeding, disease and cheetah biology in ways that would be impossible in the wild," the Kenyan Wildlife Service said. "But our ultimate goal is keeping wild cheetahs in the wild as healthy and as secure as possible."
Cheetahs are more vulnerable than many other large predators in Africa -- they are designed for speed and they prey on a relatively small numbers of species, needing vast tracts of land in which to hunt and breed. They are also vulnerable to attack from lions, hyenas and leopards.
It goes against Kenya's long-standing policy on cheetah management and conservation.
--Kenya Wildlife Service
The cheetah has three main threats to its survival, according to the Namibia-based Cheetah Conservation Fund: A loss of habitat to farming and urban development; persecution by farmers who think they are a threat to their livestock and poaching for their skins.
Boumani -- his name means warrior in Malawi -- is a three-year-old male weighing just over 13-stone (85kg) who was hand-reared by Ames at the family-run Eagle Heights Wildlife Park in Kent.
The early stages of Boumani's training to hunt has already started in this country with trips to fields with wild rabbits. He is also trained to chase meat on a zip wire while wearing a special harness during which he can reach speeds of 60mph (96 km/h).
In the wild cheetahs can accelerate to 40mph (64 km/h) from a standing start in just three seconds, going on to a top speed of about 70mph (112 km/h) with strides extending to 25 feet (7.6 meters), making it the fastest land animal.
At 12-months the eight-stone (50kg) Zina -- whose name means The Beauty in Swahili -- is technically still a cub and will not start her training until she is in Kenya.
Ames and his father Alan are negotiating a deal to lease the 500-acre plot and are due to travel to Nairobi, the capital of Kenya, in December to discuss their plans with the Kenyan wildlife authorities.
The plot they are planning to lease is adjacent to Tsavo, the biggest national park in Kenya covering 22,000 square km.
According to estimates, there were more than 100,000 cheetahs in the wild in 1900 spread across at least 44 countries throughout Africa and Asia. Today between 10,000 to 12,500 animals remain, found mostly in Africa. About 100 are believed to remain in the wild in Iran.
The species was declared extinct in India in 1952 and it has been extinct in the Arabian peninsula since 1972, although a litter was born in a nature reserve in the UAE earlier this year.
FOLLOW THIS TOPIC