STORY HIGHLIGHTS
NEW: Firefighters from Bulgaria, Greece among international forces aiding fight
Fires, fueled by shifting winds, are still not under control
Two suspects have been arrested
The fire has killed 41 people and injured 17
See hi-res gallery of wildfires in northern Israel
Jerusalem (CNN) -- Israeli police arrested two suspects Saturday in connection to a deadly wildfire raging in the country's north, though a police spokesman said it appears the fires started out of negligence.
The fires have killed 41 and injured 17 others.
Police spokesman Micky Rosenfeld said the suspects are being questioned at a local police station but police now believe the fires were due to negligence rather than arson.
As the police probe unfolded, firefighters continued to battle three major blazes fueled by shifting winds. The fire, the worst in Israel's history, is still not under control, Rosenfeld said.
The flames spread over 10,000 acres around Haifa, Israel's third largest city, threatening businesses, tourism and one of Israel's greenest regions, Mount Carmel.

Israel's wall of fire

Israel battles wildfire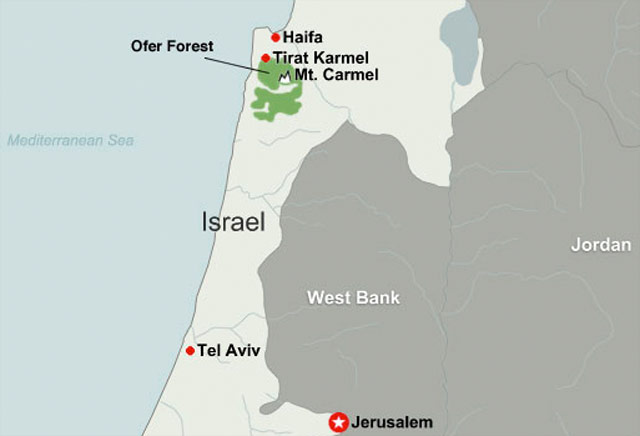 Map: Fires threaten forested area
"If you look over the hills at Haifa, you can see smoke billowing over the sea," said Rosenfeld, adding that the winds have forced authorities to close down roads to the coastal area.
About 17,000 people have been evacuated, but residential areas are not under threat, he said.
On Saturday, Prime Minister Benjamin Netanyahu referred to the help Israel received from other nations, including Egypt, Turkey and Jordan, as "heartwarming," the Jerusalem Post reported.
"One thing is clear, the Israeli people are standing together and many, many countries are together with Israel. This is no small thing," Netanyahu said during a press conference.
"This is surely a point of light in this our festival of lights Hanukkah," he said.
Israeli's military noted in a statement Saturday that firefighters from Bulgaria and Greece had joined Israeli personnel on the blaze's frontlines.
Netanyahu's office said that so far, several nations have committed 10 airplanes and three helicopters to help Israel fight the raging fire, including four from Greece, one from Cyprus, two from Turkey, two from Russia and one from France. These are in addition to several Israel Defense Forces aircraft, including two to four charged with surveying the region from above.
British Prime Minister David Cameron instructed the Royal Air Force to deploy two helicopters from Cyprus to help put out the fire, British Foreign Secretary William Hague said Friday.
Netanyahu spoke Saturday morning with the president of Switzerland to recruit additional air support, his office said.
Five U.S. Defense Department aircraft will leave for Israel this weekend to help fight the fire.
They include three C-130 firefighting aircraft from the U.S. Air Force Reserve and Air National Guard and two C-130s from the U.S. European Command, which will depart Ramstein Air Base in Germany carrying 20 tons of fire retardant, the U.S. Agency for International Development said.
The agency said it has already chartered commercial aircraft to deliver 45 tons of fire retardant and 12,000 liters of foam to suppress the flames.
A team of experts from the U.S. Forest Service's Disaster Assistance Support Program is also heading to Israel, the agency said.
Hague expressed his condolences to the families of the victims and to the thousands who have had to be evacuated because of the blaze.
"This tragedy is all the more sad as it comes as the Jewish community around the world celebrates Hanukkah, a time of hope and joy," Hague said. "The UK will continue to do whatever it can to help."
Two funerals took place Saturday after another eight were held Friday for those killed, Rosenfeld said.
Most of the 41 victims were cadets in Israel's prison service who arrived Thursday to help evacuate 500 inmates from the Damon prison near Haifa.
Among the dead, 40 were apparently burned alive when their bus, traveling along a narrow mountain road, was engulfed by the fast-moving blaze, the Jerusalem Post reported.
In an interview with the newspaper, a firefighter spokesman said the bus was gone in less than three minutes.
"The bus had no chance. They tried to escape but were burned alive," the spokesman said. "It was a horrific scene."
The IDF said the victims will be buried with full honors in military ceremonies.
Israeli firefighter spokesman Yoram Levy said shifting 29 kph (18 mph) winds made the inferno harder to control as flames neared a neighborhood in Haifa, a major tourist destination on the northern coast.
Built on the slopes of Mount Carmel about 50 miles north of Tel Aviv, Haifa's metropolitan area is also host to historical sites that date to Biblical times.
The fire has also threatened a sensitive ecological area near the Hai Bar nature reserve. Known as Mount Carmel's "Little Switzerland," the reserve is home to a wildlife preservation project that seeks to bring back native species mentioned in the Old Testament.
Though Israel is known for its military might, it has been criticized for failing to properly handle the blazes.
CNN's Paul Colsey contributed to this report.
FOLLOW THIS TOPIC