Sources: Israel, Turkey meeting aimed at mending rift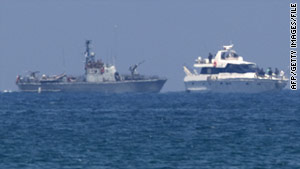 An Israeli military vessel, left, escorts a ship from an aid convoy trying to reach Gaza on May 31.
STORY HIGHLIGHTS
Relations between the countries cooled after May flotilla incident
Turkish prime minister sent planes to help in fighting Israel fire
Israeli prime minister called to thank him
(CNN) -- Officials from Israel and Turkey met in Geneva, Switzerland, on Sunday in an attempt to reduce tensions between the two nations in the wake of an incident earlier this year involving an aid flotilla to Gaza, representatives from both countries said.
The meeting came about after Turkish Prime Minister Tayyip Erdogan sent two firefighting planes Friday to Israel to aid in combating a deadly wildfire, according to a Turkish foreign ministry official.
Israeli Prime Minister Benjamin Netanyahu publicly thanked Erdogan, then called him to thank him again, the official said. While on the telephone, Netanyahu said he hoped the two countries could discuss the state of their relationship in a different context, according to the official.
Yosef Ciechanover, an Israeli representative on a U.N. panel established to review the May 31 flotilla incident, traveled to Geneva for the meeting at Netanyahu's request, according to an Israeli official.
"The two met in order to find ways to promote appeasement and diminish the tension between the two countries," the official said.
Another Israeli official said, "We regretted the deterioration of the relationship between the two countries and we of course like to see an improvement of the relations."
The Turkish foreign ministry officials said that Foreign Ministry undersecretary Feridun Sinirlioglu met with the Israeli representative.
Turkey was once Israel's strongest ally among Muslim nations, but the relationship between the two nations has been chilly since May 31, when Israeli forces intercepted an aid flotilla headed to Gaza from Turkey. Violence broke out, and nine Turkish activists were killed.
In September, the U.N. Human Rights Council concluded the Israeli forces committed serious violations of international law in the mid-sea interception. The 56-page report described the circumstances of the deaths of "at least six of the passengers" as being "consistent with ... an arbitrary and summary execution."
Israel has maintained its troops used force on the activists after they were attacked by those on board one boat, but passengers on board that boat insist Israeli troops fired on them without provocation.
CNN's Guy Azriel and Talia Kayali contributed to this report.
FOLLOW THIS TOPIC