STORY HIGHLIGHTS
NEW: U.S. officials were urged to lobby Russia on behalf of credit-card giants
NEW: A cable called Eritrea "one pistol shot away from implosion"
Swedish prosecutors, credit-card websites are hit by cyberattacks
Australia's foreign minister blames U.S. for the documents' release
London (CNN) -- Though its founder is cooling his heels in a London jail and major credit-card firms have refused to process its donations, the website WikiLeaks continued to trickle out documents from its vast cache of sensitive U.S. diplomatic cables Wednesday.
WikiLeaks' supporters in the computer-hacking community turned their ire against organizations that had cut off the site. Among the targets were the website of Sweden's national prosecutor's office, which is seeking the extradition from Britain of WikiLeaks' creator and editor-in-chief, Julian Assange.
Assange is wanted for questioning in connection with a sex-crime allegation in Sweden and surrendered to British authorities Tuesday. He has not been charged, and says the allegations against him are part of a smear campaign.
Assange has been accused of unlawful coercion, sexual molestation and rape, based on complaints filed by two Swedish women in August, according to public documents. If convicted, he would face two to four years in prison.
His lawyers have said the WikiLeaks founder has offered to meet with prosecutors to discuss the charges and complained that his rights were violated when the prosecutor, Marianne Ny, publicly confirmed that he was under investigation. But an appeals court has upheld the arrest warrant, and Sweden's supreme court declined to review the decision.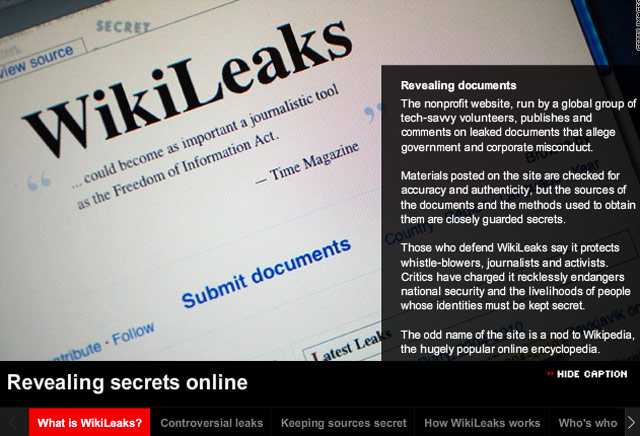 What is WikiLeaks? Here's how it works

Julian Assange's legal tangle

WikiLeaks editor in jail

Lawyer: WikiLeak document exaggerated
WikiLeaks, which facilitates the disclosure of secret information, has been slowly releasing a trove of more than 250,000 U.S. diplomatic cables since November 28. Among the documents it disclosed Wednesday was one that detailed growing anxiety in the British government over threats from Libyan leader Moammar Gadhafi, who was pressing for the release convicted Lockerbie bomber Abdelbeset al-Megrahi.
Another put a spotlight on worsening human rights and economic conditions in the African nation of Eritrea, describing the government as "one pistol shot away from implosion." And a third showed U.S. diplomats urging American officials to lobby the Russian government on behalf of credit-card giants MasterCard and Visa.
The February 2009 document noted that a bill before the Duma, the lower house of Russia's parliament, was likely to place domestic credit-card payments under the control of a consortium of state-owned banks. Visa and MasterCard -- which have suspended processing of payments to WikiLeaks -- would have been shut out of the estimated $4 billion credit-card fee market or forced to set up their own processing centers in Russia, the cable noted.
"We recommend that senior (U.S.) officials also take advantage of meetings with their Russian counterparts, including through the Bilateral Presidential Commission, to press (Russian official)] to change the draft text to ensure U.S. payment companies are not adversely affected," the document states.
On Libya, the U.S. Embassy in Tripoli noted in January 2009 that British officials expected a "sharply negative" reaction if al-Megrahi -- the only person ever convicted in connection with the 1988 bombing of Pan Am flight 103, which killed 270 people -- died of cancer in prison. Libyan officials were seeking his release, and it had become a badge of pride for the Libyans to bring him home.
"Threats included commercial sanctions, severing of political ties and suggestions that the welfare of British diplomats and citizens would be at risk," recounted the cable, which quoted the British ambassador. The U.S. ambassador, Gene A. Kretz, advised that American interests might face similar retribution.
Al-Megrahi was suffering from prostate cancer and diagnosed as having only months to live when he was released in August 2009. He remains alive.
And on Eritrea, a Horn of Africa nation the United States has accused of hindering anti-terrorist efforts in Somalia, the U.S. Embassy in Asmara said conditions were getting "worse and worse." The December 2009 cable noted the reported defection of 12 members of the country's soccer team during a regional tournament in Kenya, and that the government of President Isaias Afewerki was facing "mounting international pressure for years of malign behavior in the neighborhood."
"Human rights abuses are commonplace and most young Eritreans, along with the professional class, dream of fleeing the country, even to squalid refugee camps in Ethiopia or Sudan," it stated. The document concluded, "The brittle Isaias regime is one pistol shot away from implosion" -- but added, "While many in Eritrea long for change, few are in a position to effect it."
The disclosures are part of the third cache of secret U.S.documents WikiLeaks has released in the past seven months. A U.S. Army intelligence analyst, Pfc. Bradley Manning, has been charged with leaking some secret material to the site and with illegally accessing thousands of pages of other documents.
The latest document dump has led to calls for Assange, a 39-year-old Australian, to face criminal charges in the United States as well. But Australian Foreign Minister Kevin Rudd said the people who originally leaked the documents -- not Assange -- are legally liable, and he told the news agency Reuters that the leaks raised questions about the "adequacy" of U.S. security.
"I have been pretty consistent about where the core responsibility lies in this entire matter and that lies with the release of an unauthorized nature of this material by U.S. personnel," Rudd said.
U.S. State Department spokesman P.J. Crowley conceded Rudd's point about the source of the documents being American.
"That said, what Julian Assange is doing harms not just our interests, but has placed real lives at risk," Crowley added.
Rudd appeared in another cable, in which he proposed deploying force against a rising China if diplomacy failed to contain its ambitions.
"Rudd said the Australian intelligence community keeps a close watch on China's military modernization, and indicated the forthcoming Australian Defence White Paper's focus on naval capability is a response to China's growing ability to project force," the March 2009 cable states.
The document was sent by Secretary of State Hillary Clinton to several embassies and consulates and recounted a meeting with Rudd in Washington.
"Calling himself 'a brutal realist on China,' Rudd argued for 'multilateral engagement with bilateral vigor' -- integrating China effectively into the international community and allowing it to demonstrate greater responsibility, all while also preparing to deploy force if everything goes wrong," the cable read.
CIA Director Leon Panetta said Wednesday that the intelligence agency is "in pretty good shape in terms of specific individuals that might be in danger" as a result of the leaks, but warned the disclosures could have a long-term impact on the agency's ability to do its job.
"We are beginning to get ... concerns raised about whether or not we can keep ... [relationships] secret because of what they see happening with WikiLeaks," Panetta said.
And Defense Secretary Robert Gates even managed a joke about the matter Wednesday during a meeting in Kabul with Afghanistan's president, Hamid Karzai -- who appeared to reveal classified information himself.
Speaking about what the Afghans still need to build up their military, Karzai mentioned his weekly security meetings with Gen. David Petraeus, the top U.S. military commander in Afghanistan. Then he looked at Petraeus, who was sitting along the side of the room, and said, "Oh, is that a secret, or ..."
Gates got a laugh when he said quickly, "Not anymore."
Karzai agreed and said, "Not anymore." Then he added, "You shouldn't share things like that with presidents, you know, we are WikiLeaks."
Gates said Wednesday the disclosures are "extraordinarily embarrassing for the United States, but at the end of the day, nations and leaders make decisions based on their interest."
CNN's Per Nyberg, Jill Dougherty, Pam Benson and Jennifer Rizzo contributed to this report.
FOLLOW THIS TOPIC