STORY HIGHLIGHTS
Thousands of students in London for protests against plan to raise tuition fees
NEW: Minor scuffles break out as police prevent protesters getting near parliament
UK lawmakers set to vote on controversial plans as government tries to cut deficit
Earlier this month police arrested a total of 153 people following another protest
London, England (CNN) -- Thousands of angry students took to the streets of London Thursday for another protest, as British lawmakers prepared to vote on controversial plans to raise tuition fees.
But despite pleas from organizers for protests to remain peaceful, many students attempted to push through the long lines of police in fluorescent jackets trying to prevent them from accessing Parliament Square.
In one incident a flare was thrown at police officers, while a number of scuffles erupted.
Hundreds of police officers were deployed, many with riot gear, as the authorities looked to avoid a repeat of the disturbances last month when hundreds of protesters stormed the Conservative Party headquarters in the city. The Conservatives are the senior partner in a ruling coalition with the Liberal Democrats.

UK students protest tuition hike

UK students plan 'Day X' protests

Police injured in UK student protests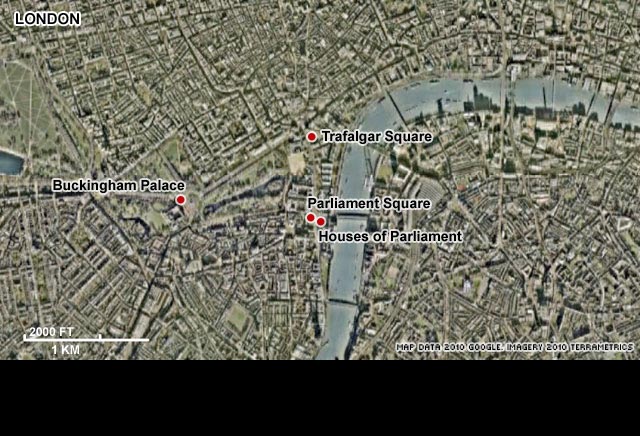 Map: Students head for Parliament
One final-year student, standing in front of police lines outside Parliament told CNN he was there out of solidarity for students who may be priced out of a place at university. "We're all here because we're passionate about this. We feel betrayed," he said.
The National Union of Students (NUS) said ahead of the march it expected tens of thousands of students from across the UK.
IReport: Are you there? Send your pics, video
Earlier this month police arrested a total of 153 people following another protest at Trafalgar Square. As many attempted to head towards parliament police stopped them a block away and hemmed them in, sparking scattered incidents of violence. Students then damaged a police van, spray painted and smashed windows at nearby government buildings, and set small fires.
Three of the arrests happened after students filled Whitehall, the street that runs from Trafalgar Square past the prime minister's residence toward Parliament. Police penned the protesters in at either end to try to limit criminal damage, and a line of police in fluorescent yellow vests kept the students from reaching Parliament Square.
"We're kettled, we're freezing, everyone needs the toilet, but we're having fun," protester Clare Solomon told CNN, using a local term for being penned in.
The protesters are angry at government plans to remove the current annual cap of £3,000 (about $4,700) on university tuition and allow schools to charge as much as £9,000 (about $14,200).
The change is part of the government's plan to cut its massive budget deficit.
Defenders of the plan say universities will not necessarily charge the maximum they're allowed to, and the government has said students will not need to pay back the fees until they earn at least £21,000 (about $32,600) a year. That threshold is currently £15,000 (about $23,300) a year.
Aaron Porter, president of the National Union of Students, urged lawmakers on the NUS website to "do the honorable thing and vote down these damaging proposals.
"Students are now descending on Westminster to ensure that promises to voters are kept and they are not sold down the river."
CNN's Andrew Carey contributed to this report.
FOLLOW THIS TOPIC