STORY HIGHLIGHTS
Gaziantep in southeastern Turkey is becoming one of the country's commercial giants
Gaziantep's exports more than doubled between 2004 and 2009
Easing regional tensions have boosted trade with Syria
CNN's global series i-List takes you to a different country each month. In December, we visit Turkey and look at changes shaping the country's economy, culture and social fabric.
Gaziantep, Turkey (CNN) -- Once considered a charming and provincial border town, business today couldn't be better in Gaziantep, a booming industrial city in southeastern Turkey.
Located on the ancient Silk Road trading route, Gaziantep is enjoying newfound prosperity, thanks to an easing of old regional tensions, which has helped fuel both trade and tourism.
According to the city's Chamber of Commerce, Gaziantep's exports increased 156% between 2004 and 2009, with many of those goods going to Syria, Iraq and Saudi Arabia.
Trade with neighboring Syria has flourished since the establishment of a free trade zone agreement, according to Asim Guzelbey, the mayor of Gaziantep.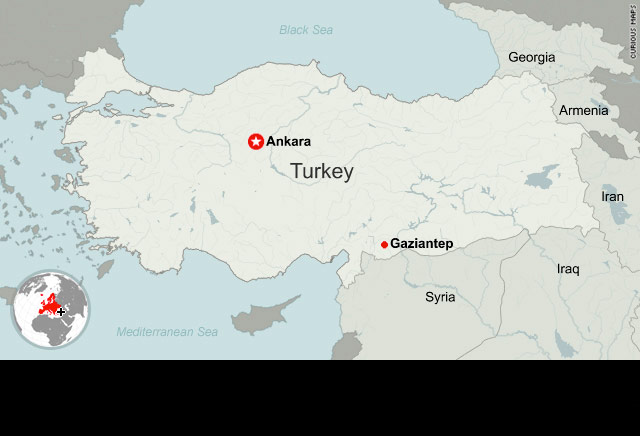 Turkey's rising southeastern star
All industrial products from Syria enter Turkey without any taxes, Guzelbey said. "And industrial products from Turkey are being sent to Syria."
Throughout history, the old Silk Road always played a significant role in forging political and trading relationships. For Gaziantep, it now seems a new Silk Road may be doing the very same.
Forms of trade established centuries ago are still practiced in this city. Some workshops still weave beautiful kilim rugs by hand -- a process that is rigorous yet rewarding.
Due to her geopolitical position, Gaziantep is the luckiest city.
--Asim Guzelbey
At the same time, modern methods are also being incorporated. While many carpets are still designed by hand, most now are made by machine.
"While Turkey used to be a machine carpet importer, it's now a high-level exporter," said Mahmut Erdemoglu of carpet manufacturer Merinos Carpets.
According to Erdemoglu, Gaziantep exports about a billion dollars worth of machine-made carpets every year.
A range of goods are being manufactured and sold in this commercial hub. In addition to textiles, local companies are selling wedding dresses to France and shoes to Italy.
Gaziantep, which is renowned for its traditional Turkish sweets -- in particular, baklava -- is even venturing into chocolate, with exports of the sweet stuff headed to Switzerland.
The city isn't just sending out products. It's also drawing in tourists.
Tourists from Syria have been flocking to the city ever since visa restrictions between Syria and Turkey were lifted last September.
"Due to her geopolitical position, Gaziantep is the luckiest city," Guzelbey said. She is a border city, an industrial city and also a trade city.
When all these are put together, "it's easy to see that Gaziantep is a rising star," he said.
FOLLOW THIS TOPIC