French to help build 2 Russian navy ships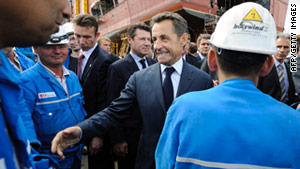 French President Nicolas Sarkozy visits workers at a STX shipyard in Saint-Nazaire, France, in July.
STORY HIGHLIGHTS
French-led consortium will help build at least two new Russian naval vessels
The deal will help employ 1,000 people for four years around Saint-Nazaire, France
(CNN) -- Top officials in Moscow have accepted a French offer to help supply the Russian navy with two new amphibious assault warships, French President Nicolas Sarkozy's office said Friday.
The offer came from a consortium led by two French manufacturers -- DCNS and STX -- working in conjunction with Russian shipyards.
Two additional warships may be constructed, bringing the total to four, Sarkozy's office said.
Sarkozy and Russian President Dmitry Medvedev "welcomed the implementation of this unprecedented cooperation that will benefit the industry and employment in both countries," said a statement from Sarkozy's office. It "illustrates the willingness and ability of France and Russia develop partnerships in all major areas, including defense and security."
The deal will create 5 million hours of work for an estimated 1,000 people over four years around the French town of Saint-Nazaire, according to the statement.
FOLLOW THIS TOPIC