Bad weather disrupts travel, causes power outages across Russia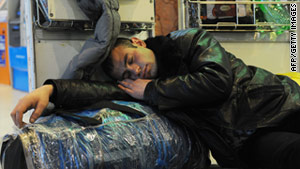 A passenger sleeps on his luggage at Moscow's Domodedovo airport.
STORY HIGHLIGHTS
The Domodedovo airport has electricity now after a power outage Sunday
Thousands of passengers are stranded due to the bad weather
Officials are clearing ice-covered fallen trees from Moscow's streets
Moscow (CNN) -- Russia's president instructed the country's prosecutor general Tuesday to check the operation of Moscow airports and related companies "to make sure they fully comply with legislation on air transportation and servicing of passengers" who have been stranded since icy rain and snowstorms caused dozens of canceled or delayed flights over the weekend, the Kremlin press office said.
President Dmitry Medvedev stepped in when air traffic disruptions and chaos at Moscow's two largest airports, Domodedovo and Sheremetyevo, became the leading news story in Russia.
Several television networks are filing regular updates from the overcrowded airports, where people whose New Year holiday and vacation plans were destroyed by bad weather are complaining about poor conditions, chaos, lack of information and huge lines. Many have slept on the floor and some claim they didn't receive medical aid that they'd requested. Russian news agencies reported there have been scuffles between frustrated passengers and airport officials.
At the Domodedovo airport, electricity has finally been restored following a complete power outage and the closure of the airport on Sunday. Domodedovo managers said they plan to restore normal operations at the airport in the next 24 hours and catch up with the schedule. More than 95 flights have been delayed or cancelled over the past two days, and dozens more were affected earlier Tuesday, airport officials said.
Sheremetyevo airport officials reported almost 60 flights were delayed Monday, however, more that 100 flights were conducted and the situation is gradually improving.
Air traffic disruptions in Moscow were mostly caused by freezing rain, which is a rare phenomenon in central Russia. As a result, all surfaces were covered with a thick, glittering layer of ice. Trees and electric lines were breaking under the added weight of the ice and roads turned into skating rinks.
There were reports Tuesday about air traffic disruptions in a number of other Russian cities as well.
Because of broken power lines, more than 39,000 people in 250 towns and villages around Moscow are still without electricity and water, according to reports from regional officials.
In the city of Moscow, emergency crews are working around the clock to restore hundreds of broken electric cable and are clearing the streets of fallen ice-coated trees, city hall said.
FOLLOW THIS TOPIC