Israel disciplines officers over Gaza shelling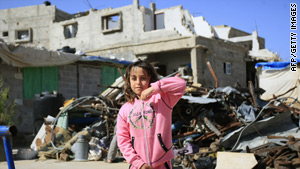 A girl plays near buildings said to have been destroyed in Israel's offensive against Gaza.
STORY HIGHLIGHTS
Details of disciplinary action revealed in Israeli report into the offensive
Israeli military denies claim men were punished for firing white phosphorous
Israel says its use of this weapon in the operation conformed to international law
Jerusalem (CNN) -- The Israeli military has disciplined two officers for allowing artillery shells to be fired into a "populated" area of Gaza during Israel's three week war against Hamas last year.
Israel noted the action in a 46-page report "Gaza Operation Investigations: An Update" which was handed to the United Nations on Friday.
The report covered Israel's role in the January 2009 fighting that left nearly 1,400 Palestinians and 13 Israelis dead. A United Nations report into the offensive urged both sides to investigate alleged human rights violations.
The new Israeli report stated: "...in one case, a Brigadier General and a Colonel had authorized the firing of explosive shells which landed in a populated area, in violation of IDF (Israel Defense Forces) orders limiting the use of artillery fire near populated areas," .
It went on to say the two officers were "disciplined" for "exceeding their authority in a manner that jeopardized the lives of others."
The two officers were the highest-ranking members of the Israeli military disciplined for actions in the military offensive, also known as Operation Cast Lead.
The incident in question revolved around the firing of artillery shells at a United Nations compound in the Tel el-Hawa neighborhood of Gaza City on January 15, 2009.
The United Nations has maintained that the compound "was struck by white phosphorous" endangering the lives of 600 to 700 civilians who were seeking shelter there at the time.
The Israeli military's spokesman's office Monday denied a report in the Israeli newspaper Haaretz that the men were punished for firing white phosphorous shells into civilian areas and said that the officers were given a "reprimand" that could adversely impact any promotion in the remainder of their military careers, though they were given no demotion.
To date one Israeli soldier, accused of stealing a credit card at a Gaza home, faces criminal charges for actions during Operation Cast Lead. A total of three dozen cases of potential wrongdoing have been referred for criminal investigation.
White phosphorous is an incendiary chemical agent used by military's for illumination purposes. Human rights groups and the the United Nations have accused Israel of illegally using the munition in Gaza during the course of Operation Cast Lead.
The Israeli military has denied the accusation and in the same report stated "the use of this weapon in the operation was consistent with Israel's obligations under international law."