Iraqi VP: Security forces in need of 'drastic action'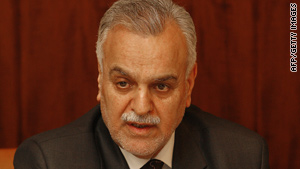 Al-Hashimi: Optimistic about March 7 elections in Iraq.
STORY HIGHLIGHTS
Benchmarks needed to improve quality of Iraq's security forces, nation's vice president says
Almost 100 people have been killed in attacks on pilgrims this past week in Iraq
U.S. military troops are due to pull out of Iraq by December of 2011
(CNN) -- On a day when car bombings targeting Shiite pilgrims in Iraq killed at least 32 people, Iraq's Sunni vice president, Tariq al-Hashimi, said "drastic action" is required to improve the quality of Iraq's security forces.
Al-Hashimi told CNN's Christiane Amanpour that Iraq -- with U.S. help -- must put some sort of benchmarks in place to improve the qualifications of Iraq's armed forces and security services.
"Time is running out quickly," he said, referring to the fact the United States has agreed to withdraw all its forces from Iraq by the end of 2011. U.S. combat forces are due to leave much earlier, by August of this year.
"What we need from now until December 2011 is help for Iraqi forces and for security to be upgraded so they can fill the vacuum when American troops pull out eventually in December 2011," al-Hashimi said.
He said he also is concerned about the fact that members of sectarian militias might have infiltrated the Iraqi security forces.

Video: Sons of Iraq unsure of future
Friday's car bombings -- two in the holy city of Karbala and one in the capital, Baghdad -- struck pilgrims celebrating Arbaeen, the end of the 40-day mourning period after Ashura.
Almost 100 people have been killed in attacks on pilgrims this week. The bombings came after a series of high profile attacks in Baghdad against government ministries and hotels in recent months. The government blames insurgents trying to disrupt the upcoming elections, to be held March 7.
Despite a continuing dispute over whether to ban 500 candidates with alleged ties to the Baathist Party, al-Hashimi said he is optimistic about the prospects for the election.
"Everybody now says the majority of all people are in fact talking in nationalistic language, which is very good," he said.
"And if you check the political agenda, you will see no differences whatsoever in fact on sectarian or ethnic (issues)."
Al-Hashimi, however, issued a challenge to Iraqi Prime Minister Nuri al-Maliki, who is trying to present himself as a strong non-sectarian national leader. He called on al-Maliki to leave his Dawa Party, which has historically been a Shiite Party, and form a purely national, cross-sectarian political entity.