Lebanon marks 5th anniversary of Hariri assassination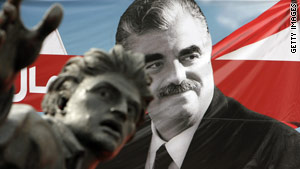 Former Lebanon Prime Minister Hariri's assassination led to several political changes in the region.
STORY HIGHLIGHTS
Ceremony will mark fifth anniversary of Lebanon PM Rafik Hariri's death

Many accused Syria of involvement in Hariri's assassination

Hariri's son and current PM, Saad, recently met with Syrian president

Beirut, Lebanon (CNN) -- Thousands gathered in downtown Beirut on Sunday to mark the fifth anniversary of former Lebanon Prime Minister Rafik Hariri's assassination, a major event that altered the nation's political landscape.
The event at Liberty Square in downtown features music and statements by top leaders, including former President Amin Gemaye.
Saad Hariri, Hariri's son and current prime minister, will also attend the ceremony, according to a statement on his party's Web site.
The Lebanese army and internal forces will provide security at the ceremony, the Web site said.
Hariri died February 14, 2005, in a powerful explosion that left a 10-foot crater in a street in downtown Beirut. His death stunned the nation and prompted tens of thousands to take to the streets, blaming Syria for the killing.
Syria denied the accusations, but an investigation by the United Nations Special Tribunal found links between Syria's government and Hariri's assassination. The revelation led to the withdrawal of Syrian troops from Lebanon.
Since then, the frosty relations between the two have thawed somehow. Hariri recently took a trip to Damascus and met President Bashar al-Assad, prompting critics to say his visit undermines the investigation.
Lebanon was engulfed in a sectarian civil war for 16 years from 1975, the longest of its kind in the Middle East. The conflict was among its Shiite, Sunni, Druze and Alawite populations.
Last week, President Obama called Hariri and expressed America's support as the Lebanese mark five years since the assassination.
Obama and Hariri affirmed their desire to work together to advance peace in the region and support the special tribunal's effort to prosecute those responsible for the assassination.