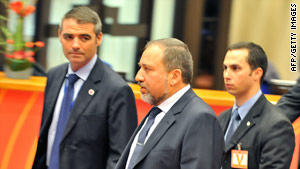 Israeli Foreign Minister Avigdor Lieberman, center, leaves a meeting with EU ministers in Brussels, Belgium, on Monday.
STORY HIGHLIGHTS
NEW: Israeli foreign minister says "media reports" are all that links Israel to slaying
EU official issues statement condemning "theft" but doesn't name Israel
Israeli ambassadors pressed by countries whose passports were used
Hamas' Mahmoud al-Mabhouh was killed in Dubai hotel room last month
(CNN) -- The European Union "strongly condemns" the use of false EU passports in connection with the killing of a Hamas leader in Dubai last month, a top foreign policy official said Monday in Brussels, Belgium.
Baroness Catherine Ashton said the EU was concerned the killers had acquired false passports and credit cards "through the theft of EU citizens' identities."
She did not mention Israel in the statement, although foreign ministries in the countries whose passports were doctored called in Israeli ambassadors last week to discuss the issue.
She did say she would bring up the issue with Israeli Foreign Minister Avigdor Lieberman when they have dinner together Monday night.
Mahmoud al-Mabhouh, a founding member of the military wing of the Palestinian Islamist movement Hamas, was killed in a Dubai hotel room last month. Dubai is one of the Gulf emirates comprising the United Arab Emirates.
Ashton said the slaying "cannot be conducive to peace."
French President Nicolas Sarkozy went further, saying, "France firmly condemns what is nothing other than a murder." He was speaking to reporters in Paris along with Palestinian Authority President Mahmoud Abbas.
Lieberman, in Brussels, reiterated that there is nothing more than "media reports" to link Israel to the killing, his office said in a statement.
He told Irish Foreign Minister Micheal Martin "that if alternate information, beyond media reports, would emerge, then Israel would respond. However, as no such further information has been presented, there is no need to relate to the matter," the statement said.
On Sunday, the UAE's foreign minister vowed that his country would bring the killers to justice.
"We fully intend that those responsible are brought to account for their actions," Sheikh Abdullah bin Zayed al Nahyan said in a statement published by the country's official news agency.

Video: Hitmen didn't avoid cameras

Video: Dubai killing 'professional'

Video: Hamas blames Mossad for death
The Gulf state has urged allies in Europe to get to the bottom of how fraudulent passports were used as part of the murder plot, its Foreign Ministry said.
European officials pressed Israel for answers Thursday over the use of doctored passports by suspects in the killing, prompted by media speculation that Israeli agents were involved.
"The UAE is deeply concerned by the fact that passports of close allies, whose nationals currently enjoy preferential visa waivers, were illegally used to commit this crime," the UAE Foreign Ministry said Sunday.
Interpol on Thursday made public the photos and fraudulent names of 11 people it said were involved in the murder. The "red notices" are not international arrest warrants but are a way of alerting police forces around the world that the suspects are wanted by authorities in the United Arab Emirates.
British and Irish officials met with their respective Israeli ambassadors Thursday, and France demanded that Israel explain the use of a French passport in the plot, authorities in the three countries said.
Authorities in Dubai earlier released the photos and fraudulent names of 11 members of an alleged hit squad that they said killed al-Mabhouh.
The suspects had European passports -- one from France, three from Ireland, six from Britain, and one from Germany, according to police.
United Arab Emirates officials involved in the investigation, however, told CNN there are seven more suspects involved -- including two Palestinians -- for a total of 18. The two Palestinians were arrested in Jordan, according to an official.
An official with knowledge of the investigation told CNN two other suspects are thought to be Irish. The nationalities of the other three have not been released.
But on Monday, a British lawmaker said two other British passports could have been involved in the affair.
"On February 21 the Foreign Secretary [David Miliband] spoke to Abdullah bin Zayed, the Emirati Foreign Minister, who confirmed that they ... would be sending us details of at least a further two British passports that may have been involved. That information was received by the Foreign and Commonwealth Office today," said Chris Bryant, deputy leader of the House of Commons, in a statement to lawmakers.
The United Arab Emirates has been in touch with Austria, the official with knowledge of the investigation said, because investigators believe the "command and control room for communication, that was used for the relay communication system, was in Austria. ... We've talked earlier to the Austrians and we are working on that."
Authorities previously had said the suspects did not talk to one another by telephone, but instead used relay communication -- walkie-talkies or mobile-to-mobile devices.
Countries friendly to the UAE have been cooperative in exchanging information, the official said.
The passports used are not fake or forged, but are authentic passports meant for other people, the official said.
The suspects and others are believed to have come to Dubai near the end of 2009 for mapping and planning efforts, the official with knowledge of the investigation told CNN -- "there were previous stakeouts for planning and research purposes."
British Prime Minister Gordon Brown has ordered an investigation, after British officials said they believe the passports used were fraudulent.
France has also said a passport used from that country is fraudulent.
"We have got to know what happened to British passports," Brown said in a statement Thursday. "It is as simple as that. It is an investigation that has got to take place before any conclusions are drawn."
In Israel, as many as seven people whose names were on the travel documents said they have no knowledge of al-Mabhouh's death.
The Dubai police chief said Thursday that he is 99 percent certain that Mossad, the secretive Israeli intelligence unit, is behind al-Mabhouh's killing.
"Our investigations reveal that Mossad is involved in the murder of al-Mabhouh. It is 99 percent, if not 100 percent that Mossad is standing behind the murder," Lt. Gen. Dahi Khalfan Tamim told The National newspaper, an English-language daily owned by the ruling family of Abu Dhabi.
Dubai police have evidence that shows a clear link behind the suspects and people closely connected to Israel, Tamim told the paper, but he did not say what the evidence is.
Hamas has called al-Mabhouh's death an assassination. His family members told CNN they believed Mossad was involved.
Al-Mabhouh was behind the kidnapping and killing of two Israeli soldiers in 1989, according to Hamas.
"The decision for revenge has been made and the Zionists must wait for that moment and see," said Abu Ubaida, a spokesman for Al-Qassam Brigades, the armed wing of Hamas.
Israel has a policy of neither confirming nor denying involvement in security matters, and government officials declined to comment on the "assassination" statement.
"The Israeli policy has always been to be vague regarding security activities, and that is the right policy," Lieberman told Israel Army Radio on Wednesday.
FOLLOW THIS TOPIC