Leading candidate Allawi concerned about Iraq recount process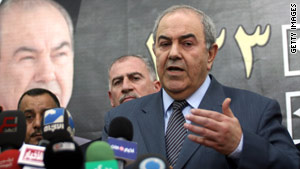 Former Iraqi Prime MInister Ayad Allawi will form a new government if he is declared winner of Iraq's vote.
STORY HIGHLIGHTS
Former Iraqi Prime MInister Ayad Allawi's slate is apparent winner of March vote
He backs manual recount of Baghdad, but wants other areas looked at
Allawi says he's concerned ballot manipulation may have taken place
(CNN) -- Former Iraqi Prime MInister Ayad Allawi, whose slate was the apparent winner of last month's elections, said Tuesday he backs a manual recount of Baghdad votes ordered by an appeals court but is concerned that other areas should be recounted as well.
The court announced the recount on Monday in response to an appeal from Prime Minister Nuri al-Maliki's State of Law coaltion, which fell two seats behind Allawi's Iraqiya slate.
Allawi said he believed election officials were pressured into the decision and he was concerned ballot manipulation may have taken place.
"We believe very strongly in the manual recount, but the issue is why no other areas have been included in the recount where there are accusations of problems that have occurred in Basrah, Najaf and Diwaniya," he said.
"We are worried about where the ballot boxes have been kept, since the election until today," he said. "Over a month-and-a-half have elapsed. We really don't know where those boxes have been, we don't know who [had] access to them, and we don't know whether they have been tampered with."
Osama Al-Nijaif, one of the Iraqiya leaders, echoed Allawi's statements.
"We believe that the decision of the appeals court will delay all the dialogs conducted to form the government," he said. "The decision is also a reason to have doubt in the the integrity of the elections."
The winner of the March 7 election will be asked to form a new government. There are concerns that the delay could lead to a political vacuum and an increase in violence reminiscent of the escalation in sectarian violence in early 2006 while the government was being formed.
Elections commissioner Hamdiya Al-Husseini said in an interview with Iraqiya state TV that the commission began preparing for the recount after it received the court order on Monday. Al-Husseini said the commission will now notify political and other observer groups that they will be needed for the recount.
Al-Husseini said she expects it to take at least 10 days to recount the 11,000 voting stations.