Iraqi officials: Gunmen kill family of Awakening Council leader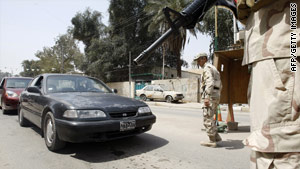 Iraqi soldiers man a checkpoint in Baghdad after the April 2 attack that killed 25 people in a nearby village.
STORY HIGHLIGHTS
Attackers kill leader's wife, daughter, and behead his three sons
This is second recent attack on members of Awakening Councils or Sons of Iraq
On April 2, gunmen killed 25 people, many of them Sons of Iraq members
Authorities blamed that attack on al Qaeda in Iraq
(CNN) -- Gunmen stormed a house north of Baghdad, killing the family of a local Awakening Council leader, police officials said Tuesday.
The attackers killed the man's wife, their 22-year-old daughter and their three sons, who were beheaded, according to police. The father was not home when the attack took place Monday night in the Salaheddin province town of Tarmiya, about 30 miles (45 kilometers) north of Baghdad, police said.
The attack is the latest targeting Awakening Council or Sons of Iraq members and their families.
Earlier this month, gunmen wearing military uniforms stormed houses and killed 25 people in a Sunni village near Baghdad.
Five of the dead were women. Most of the victims were shot in the head, and all were found handcuffed, police officials in Baghdad said.
The attack, involving at least 20 gunmen, took place in a village in Arab Jabour, a predominantly Sunni region about 15 miles southeast of the capital, authorities said.
The area was once a hotbed of insurgents until the birth of Awakening Councils or the Sons of Iraq, which were established to reduce violence and provide security for residents in certain areas of the country.
Most of the victims in the April 2 attacks were local Sons of Iraq members.
Authorities said at the time that the mass shooting appeared to be the work of al Qaeda in Iraq.
Iraqi security forces initially arrested 25 suspects but released several due to insufficient evidence, police said.
Military uniforms are relatively easy to purchase in Iraq. In Baghdad, several shops sell police and army uniforms for less than $15.
Officials said Monday that the two most senior leaders of al Qaeda in Iraq had been killed in a joint Iraqi-U.S. operation. The deaths of Abu Ayyub al-Masri and Abu Omar al-Baghdadi deal "a potentially devastating blow" to the terrorist group, the U.S. military said.