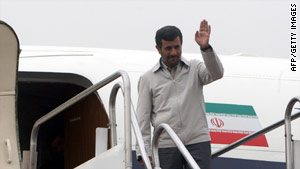 Iranian President Mahmoud Ahmadinejad departs Tehran for the United States on Sunday.
STORY HIGHLIGHTS
Iranian president plans to address U.N. nonproliferation conference in New York
Ahmadinejad calls nuclear stockpiles "biggest threat to the world today"
He claims to have proof Washington is "the root of world terrorism"
But he asks U.S. to engage with his government, urges "companionship"
(CNN) -- Iranian President Mahmoud Ahmadinejad left Sunday for the United States to take part in a conference on nuclear nonproliferation, a Foreign Ministry spokesman told state television.
Ahmadinejad will address the the United Nations Nuclear Non-Proliferation Treaty review conference in New York on Monday, spokesman Ramin Mehmanparast told Iran's News Network.
Ahmadinejad told reporters in Tehran before his departure that the NPT has failed.
"The biggest threat to the world today is the production and stockpiling of nuclear weapons," he said.
"Unfortunately the [International Atomic Energy Agency] in the past 40 years has not been successful in its mission. We have no disarmament or nonproliferation and some countries have even procured the nuclear bomb during this period," Ahmadinejad said Sunday.
A top Ahmadinejad adviser, Mojtaba Samareh Hashemi, said Saturday that the Iranian president planned to offer major proposals at the conference but that the plans would allow Iran to maintain its nuclear program, the IRNA official news agency reported.
Iran insists its program is aimed at producing nuclear energy, while Washington accuses it of seeking to develop nuclear weapons.
With the United States pushing for new international sanctions against Iran over its refusal to halt its nuclear program, Ahmadinejad said Saturday that his nation "cuts any hand that signs a document against Iran," according to the semiofficial FARS news agency.
Ahmadinejad began his trip a day after saying he has proof that the United States and Israel are linked to the world's leading terrorist organizations, according to state-run media.
"We have documents that prove [Washington] is the root of world terrorism," Ahmadinejad said in a speech in Tehran, Press TV reported. "It has been aiding and abetting extremist groups over the past years."
The United States "is the only country to have used the atomic bomb in military conflict," Ahmadinejad said Saturday, according to Press TV. "They even admit themselves that they resorted to using [similar weapons] during the war they waged on Iraq."
The United States has not admitted using such weapons in the Iraq war.
Ahmadinejad urged the United States to engage his government, saying that "companionship is better than confrontation," FARS reported.
His remarks came at a ceremony celebrating May Day, or International Workers' Day.
The U.S. State Department said Friday that it is granting some of the visas requested by the Iranian delegation planning to attend next week's conference but would give no details about a visa for the Iranian president.
On Thursday, Secretary of State Hillary Clinton condemned Ahmadinejad in some of the Obama administration's strongest language to date.
"Iran, with its anti-Semitic president and hostile nuclear ambitions, also continues to threaten Israel, destabilize the region, and sponsor terror," Clinton said, addressing the annual meeting of the American Jewish Committee.
"The United States is committed to pursuing [a] diplomatic path," she said. "But we will not compromise our commitment to preventing Iran from developing nuclear weapons."