State media: Lebanon fires on Israeli warplanes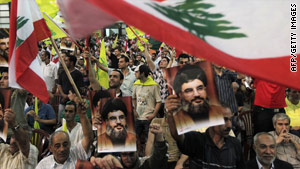 Lebanese earlier this week celebrated the 10th anniversary of Israeli troops' withdrawal from southern Lebanon.
STORY HIGHLIGHTS
Lebanon fires on Israeli warplanes, state media reports
Lebanon regularly reports airspace violations by Israel
The Israeli military does not comment on activity or rumors of activity, a spokeswoman says
(CNN) -- The Lebanese army fired anti-aircraft guns on Israeli warplanes Wednesday after what it said were repeated violations of Lebanese airspace, state media reported.
According to the National News Agency of Lebanon, the army opened fire after Israeli planes entered Lebanese airspace for a third time over a two-hour period in what would be a violation of U.N. Security Council Resolution 1701.
"The Israel Defense Forces does not comment on Israeli Air Force activity or rumors regarding it," an IDF spokeswoman said.
Airspace violations by Israel have been reported since a cease fire was established following five weeks of fighting between Israel and Hezbollah in the summer of 2006. The Israeli military attacked after Lebanese-based Hezbollah militants kidnapped two Israeli soldiers during a cross-border raid.
Under Resolution 1701, Israel is not supposed to conduct military operations over or in Lebanon. Israel has accused Hezbollah of smuggling arms into southern Lebanon, also in violation of the resolution.