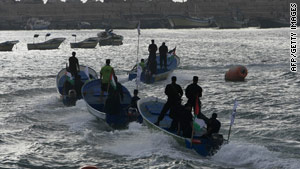 Hamas marine security take to the waters off Gaza City port on May 28 ahead of the expected flotilla.
STORY HIGHLIGHTS
NEW: Israeli navy contacts ships approaching, Gaza flotilla organization says
NEW: Flotilla participants say they see three Israeli navy ships on radar
Israeli naval missile boats left Haifa naval base to intercept flotilla earlier
Two pro-Palestinian groups aim to deliver tons of food and other aid, defy Israeli blockade
(CNN) -- A convoy of boats carrying food and aid to the Palestinian territory of Gaza in defiance of an Israeli blockade is being shadowed by three Israeli warships, according to one organization participating in the flotilla.
At least one of the six boats in the flotilla have also been contacted by Israel Defense Forces radio, the Free Gaza organization reported on its Twitter page.
"We didn't expect them now," said one tweet about 11 p.m. (4 p.m. ET), adding the participants thought Israeli forces would arrive Monday morning.
Three Israeli navy missile boats left a Haifa naval base just after 9 p.m. (2 p.m. ET) to intercept the flotilla.
"This is a help message," said one post from the flotilla on the Free Gaza website. "We have been contacted by the Israelis but are still fine, don't worry."
"The signals are going up and down," the website said. "Israel is doing its best to block the satellite."
Free Gaza said later that flotilla participants could see three Israeli navy vessels on radar shadowing them as they proceeded toward the coast. The Israeli navy had contacted the flotilla and asked, "Who are you and where are you going?" the organization said.
"Our reply was that we were part of a flotilla and we were going to Gaza to deliver humanitarian supplies," the organization said.
Contacted by CNN, the IDF reiterated the Israeli government's offer for the flotilla to dock at Israel's Ashdod port, where supplies would be unloaded and transferred to Gaza.
The IDF said the Gaza shoreline is not specifically deemed a "closed military area," but it is closed to maritime traffic. The Israeli government has decided to prevent all ships from reaching the Gaza shore to prevent any attempts to bring in ammunition or missiles that could potentially harm Israeli citizens, the IDF said.
Osama Qashoo of the Free Gaza organization said earlier Sunday that morale onboard the ships was high. "It's the best cruise you could ever take. People are singing and laughing."
The flotilla was delayed for a while after two boats developed mechanical problems, but set out on the last leg of the journey Sunday. One boat was repaired, while the other will head to Gaza next week, organizers said.
The flotilla is expected to arrive near Gaza at about 9 a.m. Monday (2 a.m. ET), according to the Free Gaza Movement website.
The boats left European ports in a consolidated protest organized by two pro-Palestinian groups to deliver tons of food and other aid to Gaza to break a blockade imposed by Israel in 2007.
The Israeli government said Thursday it would stop the convoy, and that the IDF has been given instructions to reroute the flotilla to Ashdod. The activists remain adamant that they are headed to Gaza.
Both sides insisted on Sunday they do not want a confrontation.
"We are determined. We are going to bust through the Israeli navy," Qashoo said. But "we are not seeking any confrontation ... we are simply a humanitarian mission."
He said the participants will defend themselves if they must.
Israeli government spokesman Mark Regev, meanwhile, said Israeli civilians were plagued a year ago by rockets and missiles fired from Gaza that originated in places like Iran and Syria.
The government wants to check vessels heading into Gaza to make sure rockets and missiles aren't being smuggled in, he said. "For us, it's a life and death issue."
Qashoo said participants are prepared -- some have written their wills, while others are in contact with family and friends.
Flotilla participants said in a statement they planned to hold a memorial service on Sunday for U.S. soldiers killed in a 1967 Israeli attack on the USS Liberty in the eastern Mediterranean. Thirty-four American soldiers died and 173 were injured.
The service will be led by Joe Meadors, who was a signalman on the Liberty and is a member of the Free Palestine Movement delegation to the flotilla, the statement said.
"I am sailing again in the eastern Mediterranean," Meadors said in the statement, "to remember the brave heroes from the Liberty and the forgotten 1.5 million people trapped in Gaza."
The maritime convoys are being organized by both the Free Gaza Movement and the Turkish-based IHH, a humanitarian relief foundation affiliated with the Muslim Brotherhood religious group.
Regev said Sunday that Western and Turkish authorities have accused IHH of having "working relations" with different terrorist organizations.
He reiterated that the flotilla is invited to stop at Ashdod, and noted the Egyptian government has made a similar offer.
While flotilla participants speak of human rights, Regev said, they don't mention the human rights of Israelis on the receiving end of Hamas rockets, or even the "brutal suppression" of human rights within Gaza by Hamas.
"If you're gay, if you're Christian, if you're a woman dressed, in their terms, immodestly, you'll face violent retribution," Regev said.
"Free Gaza seems to ignore all that. What sort of human rights activists are they?"
About 15,000 tons of humanitarian aid flows into Gaza per week, Regev said. He questioned whether the flotilla is really interested in helping people in Gaza, or just wants to "make a political point, which is difficult to understand."
In the meantime, Stand With Us, a pro-Israel advocacy group, has organized a six-boat flotilla as a counter-demonstration against the Turkish flotilla.
Michael Dixon, a member of the pro-Israeli group, says the real aim of the Turkish group is not humanitarian, but to draw attention to itself.
"We are here today to protest the hypocrisy of the boats coming in towards Gaza right now. They profess to be human rights activists, but they don't say anything about the suffering of the Palestinians under the brutal Hamas regime," Dixon said late last week.
"The people on the boat refused a letter to Gilad Shalit, an Israeli soldier who has been kept captive in isolation for three years. That shows you the type of people we are dealing with," he said.
A protest outside the Israeli embassy in Istanbul, Turkey, began Sunday and continued into the early morning hours of Monday, with some 20 to 30 people gathered near the embassy shouting slogans, according to CNN Turk.
CNN's Ben Wedeman, Guy Azriel and Kareem Khadder contributed to this report.