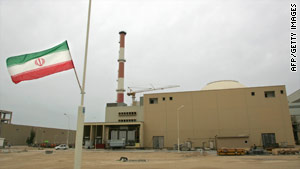 Pictured is the building housing the reactor of the Bushehr nuclear power plant in Bushehr, Iran.
STORY HIGHLIGHTS
NEW: Iran will keep enriching uranium, parliament speaker insists
Iran to begin design work on new research reactor, atomic energy chief says
Announcement comes after new U.N. sanctions on Iran
U.S. believes Iran wants nuclear weapons, while Iran denies it
Tehran, Iran (CNN) -- Iran is starting design work on a new nuclear reactor, the head of the country's Atomic Energy Organization said Wednesday, according to Iranian media.
The design should be complete in two to three years and the reactor should be operational within five, Ali Akbar Salehi told the official Islamic Republic News Agency.
The remarks come a week after the United Nations Security Council slapped new sanctions on Iran as punishment for its controversial nuclear program.
The United States and its allies believe Iran is trying to develop nuclear weapons. Iran denies it, saying its nuclear program is for energy and medical research.
Salehi described the planned new facility as a "research reactor." Iran currently has a research reactor which produces medical isotopes.
Another Iranian news agency, IRIB, quoted him as saying Iran planned to build four new reactors "in the four corners of the country."
The semi-official Fars news agency quoted him as saying Iran planned to build "a number of reactors" around the country "to produce nuclear medicines for domestic use and for export."
Iran reiterated its hard line on enriching its own uranium, the semi-official Fars news agency reported.

Video: U.S. announces new sanctions on Iran
It will "under no circumstances" stop enriching uranium to 20 percent, the speaker of Parliament Ali Larijani said, according to Fars. Uranium enriched to 20 percent is capable of producing a nuclear chain reaction.
Larijani said Iran was responding to the so-called "P5 plus one" countries "ignoring" international rules about supplying fuel to the Tehran Research Reactor.
The P5 plus one countries -- China, France, Germany, Russia, the United Kingdom and the United States -- are negotiating as a group with Iran over its nuclear program.
Larijani also warned that efforts to enforce some of the U.N. sanctions could lead to retaliation.
"We warn the United States and other adventurous countries that if they are tempted to search the cargo of Iranian ships and planes they can be sure that we will take it out on their ships in the Persian Gulf and the Sea of Oman," he said.
The U.S. Navy maintains ships in the region.
"This tit for tat is part of our defense of our national interests," Larijani said.
Iran warned before the sanctions vote June 9 that it would break off negotiations if the Security Council imposed them.
It was the fourth round of sanctions to be put on Iran since 2006.
Iran also took a step towards reducing its cooperation with the U.N. nuclear watchdog agency, the International Atomic Energy Agency, the Tabnak website reported.
Lawmakers approved a draft measure to ban IAEA inspectors from the county for six months. The proposal must still be approved by various parliamentary committees and the full parliament before coming into effect.
CNN's Shirzad Bozorgmehr contributed to this report.
FOLLOW THIS TOPIC