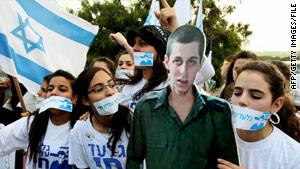 Israeli supporters call for the release of Gilad Shalit, pictured in cardboard cutout.
STORY HIGHLIGHTS
Prime Minister Benjamin Netanyahu says he must weigh costs to Israel
He agreed to proposal; ball now in Hamas' court
Israel willing to release 1,000 prisoners in exchange for release of Gilad Shalit
Shalit's family mounting pressure on Netanyahu to take action
Shalit was captured by Hamas in a 2006 cross-border raid
Jerusalem (CNN) -- Facing mounting pressure from the family of Gilad Shalit, Israeli Prime Minister Benjamin Netanyahu said Thursday that Israel was ready to pay a high price for the captured soldier's release -- but there was a limit to that price.
Netanyahu said he would consider the terms of a prisoner swap with the Palestinian militant group Hamas "while resolutely safeguarding the citizens of Israel."
"As prime minister, I must weigh all these considerations," Netanyahu said at a news conference. "Acting rashly, acting without discretion, we could repeat the mistakes of the past and bring upon ourselves a very, very great danger."
"The state of Israel is willing to pay a very high price," he said. "But it cannot say any price."
Netanyahu said he had agreed to a proposal put forth by a German mediator and was willing to consider the release of about 1,000 Palestinian prisoners in exchange for Shalit.
But citing past terror attacks conducted by released prisoners, Netanyahu said he will not agree to setting free "arch-terrorists," the high value targets that Hamas has named.
He said Hamas has not yet responded.
"The ball is in their court," Netanyahu said. "We all want to see Gilad come home. I want him to come home. I am working to bring him home in different ways, both visible and those that cannot be seen."
Netanyahu has been under increasing pressure from both Shalit's family and the Israeli public to secure the release of the soldier, who was captured by Hamas in a cross border raid four years ago.
On Sunday, the family was joined by 2,000 supporters in a planned 12-day march from their home to Jerusalem. The family intends to camp outside Netanyahu's official residence until Shalit is free.
Hamas dismissed Netanyahu's statement Thursday, saying that the Israeli leader was not serious about accepting a Hamas offer.
"If he's really looking for a solution, then there was many steps and opportunities (that could have been taken) taken regarding that," Hamas spokesman Ahmad Yousef told CNN. "He is not honest and not serious about the exchange of prisoners."
Several prisoners swap deals between Israel and Hamas have already failed. The Shalit family and their supporters hoped their march will help jump-start another round of talks between the two sides.
Shalit has been held captive since June 25, 2006, when Palestinian militants from Gaza, including Hamas, captured him. The militants tunneled into Israel and attacked an Israeli army outpost near the Gaza-Israel-Egypt border, killing two soldiers in the assault. Israel immediately launched a military incursion into Gaza to rescue Shalit, then aged 19, but failed to free him.
Since being imprisoned by Hamas, Shalit has not been allowed any contact with the outside world, nor any visits by the Red Cross. Details of his incarceration and physical condition remain unknown.
In October 2009, Hamas released a tape of Shalit as a proof of life, in which he urges the Israeli government to do more for his safe release.
"I say we must not turn the matter of Gilad Shalit into a political tool," Netanyahu said. "The public pressure must be directed not at the government of Israel, but at Hamas -- at this murderous terrorist organization that hasn't even allowed the Red Cross to visit Gilad Shalit even once."
FOLLOW THIS TOPIC