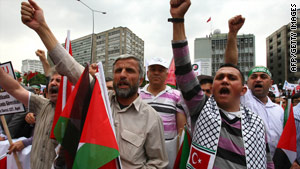 Pro-Palestinian demonstrators wave Turkish and Palestinian flags during a protest in Ankara on June 6.
STORY HIGHLIGHTS
NEW: Foreign Minister: Israel "has no intention of apologizing to Turkey"
Turkey demands apology or international inquiry, or else "ties will be cut," paper reports
Dispute comes after Israeli raid on Gaza aid flotilla left nine Turks dead
Israel says it must blockade Gaza to keep weapons from terrorists
Jerusalem -- "Israel will never apologize for defending its citizens," a high-ranking Israeli government official told CNN Monday, after Turkey reportedly demanded an apology or an inquiry into an Israeli raid on an aid ship that killed nine Turkish citizens.
"Of course we regret the loss of life, but it was not the Israeli side that initiated the violence," the official said.
Israeli Foreign Minister Avigdor Lieberman later rejected Ankara's demand more bluntly.
"We have no intention of apologizing to Turkey," he said, according to the ministry.
Israel is "concerned" about what it sees from Turkey, he said, but added: "These sort of expressions are a part of a Turkish change of direction and a new Turkish policy, which is an internal matter we cannot get involved in."
Hurriyet newspaper quoted Turkish Foreign Minister Ahmet Davutoglu on Monday as saying that Turkey would "cut off relations" with Israel unless "they either apologize or accept an international commission and its report."
"(The) Israelis have three options: They will either apologize or acknowledge an international-impartial inquiry and its conclusion. Otherwise, our diplomatic ties will be cut off," Davutoglu told Hurriyet early Sunday in an interview on his plane returning from Kyrgyzstan, the newspaper reported.

Video: No 'war of words' with Turkey

Video: Secret meeting in Middle East
The Foreign Ministry later claimed the minister had been misquoted, saying he actually said that without an apology or inquiry, "it will not be possible for our relationship to improve."
A Turkish Foreign Ministry official told CNN that Davutoglu's comments were " a strong warning to Israel," yet did not exactly mean ending relations.
The wide-ranging military and diplomatic alliance between the Jewish state and its powerful regional ally has been badly shaken by the May 31 Israeli raid on a flotilla of aid ships bound for Gaza.
The six vessels in the convoy were stopped by Israeli commandos on May 31. Nine activists were killed after violence erupted on one of the ships, the Mavi Marmara.
Israel said its troops were attacked with knives, metal poles and other objects. But passengers on board the boat insist they were fired upon without provocation.
Senior officials from Israel and Turkey held a secret meeting in Europe last week, the first ministerial meeting between the two countries since the Gaza flotilla incident, the two countries said Thursday.
Davutoglu met Israeli Industry and Trade Minister Benjamin Ben-Eliezer on Wednesday, the two sides said, but offered different locations for the meeting. Each also said the meeting happened on the other's initiative.
Separately, Spanish Prime Minister Jose Luis Rodriguez Zapatero said the foreign ministers of Spain, France and Italy will visit Gaza this month, a Zapatero spokesman told CNN Monday. It was not immediately clear if the three foreign ministers would be going together or separately.
Zapatero made the comment at a news conference in Madrid with visiting Syrian President Bashar al-Assad, said the Zapatero aide.
But the French Foreign Ministry said the visit had not been confirmed. Italy did not immediately respond to CNN requests for confirmation.
Israeli Prime Minister Benjamin Netanyahu is scheduled to meet U.S. President Barack Obama at the White House on Tuesday.
Obama will try to "seize momentum" in the Middle East peace process at the meeting, White House officials said.
Turkey signaled Monday it will not relax pressure on Israel in its attempt to secure compensation for the nine victims.
The ministry spokesman said Turkey had not yet reached the point of cutting off relations with Israel but made it clear that even a full apology would not itself repair damaged relations.
The point of an apology would be to lead to compensation for those who died and to the lifting of the blockade of Gaza, government spokesman Burak Ozugergin told CNN.
The raid on the flotilla triggered a wave of international condemnation of Israel and its policies toward Gaza.
Turkey recalled its ambassador to Israel after the incident and denied Israeli military planes access to its airspace.
Israel imposed the blockade after Hamas took over Gaza three years ago.
Israeli authorities say the blockade is in place to stop weapons from reaching militants in Gaza who want to attack Israel.
Netanyahu recently announced an easing of the Gaza blockade. The changes include expanding operations at the existing land crossings, as well as streamlining the authorization process for international aid groups the Israeli government recognizes.
Israeli Defense Minister Ehud Barak met Palestinian Prime Minister Salam Fayyad on Monday to discuss implementing the changes to the blockade, Barak's office announced.
Israel's Foreign Ministry published the new rules Monday on what is allowed into Gaza.
The naval blockade remains in place.
Palestinian officials say the steps are an improvement but still insist that the blockade should be completely lifted.
CNN's Guy Azriel in Jerusalem and Andrew Finkel and Yesim Comert in Istanbul, Turkey, contributed to this report.
FOLLOW THIS TOPIC