STORY HIGHLIGHTS
Cihangir has been compared to Soho in New York and Montmartre in Paris
Cihangir Mosque offers stunning views of the Bosphorus
The quarter has a vibrant cafe culture and numerous antique stores
(CNN) -- Home to an eclectic mix of writers, artists and intellectuals, the bohemian quarter of Cihangir is fast becoming one of Istanbul's most fashionable.
Home to the city's "literary mafia," the up-and-coming artistic enclave has been likened to other world-famous cultural hubs like Soho in New York and Montmartre in Paris.
A maze of brightly-colored stuccoed facades; the tree-lined streets of Cihangir play host to a buzzing cafe culture and a jumble of galleries, vintages stores, restaurants and chic boutiques.
No strict borders define the area, but the mixture of centuries-old Ottoman streets and 19th century buildings starts at Taksim Square in the heart of modern Istanbul and slopes all the way down to the sparkling blue Bosphorus strait.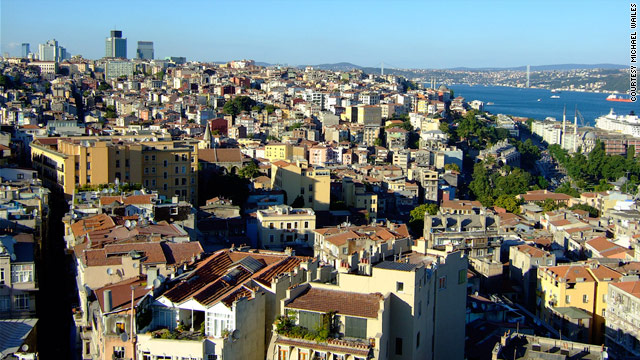 Gallery: Cihangir: The Soho of Istanbul
What to see
Sitting high on the hill, Cihangir Mosque, which gives the neighborhood its name, is worth visiting. Originally built in the 16th century and destroyed by fire, the current granite mosque, built in the 1880s, offers stunning panoramic views over the Bosphorus.
Perhaps best known as Istanbul's antique quarter, Cihangir is home to countless antiques stores. For lovers of all things old, taking a stroll down the streets of Turnacibasi and Cukurcuma is recommended. If carpets, books, chairs or ceramics are what you're after, bets are you'll find it here and plenty more.
To explore the district's hip cafe culture, head to the main road of Siraselviler Caddesi or Cypress Avenue, where you can people-watch while sipping a cup of coffee. In the streets behind, a maze of shops and galleries sell contemporary art showcasing vibrant new talent, as well as boutique stores and bric-a-brac.
Where to eat
For a true taste of Eastern Turkey, early risers need go no further than Van Kahvalti Evi or Van Breakfast House (Defterdar Yokusu 52 A, Cihangir). A traditional Kurdish feast hailing from the city of Van, close to Turkey's border with Iran, the traditional Turkish breakfast comes complete with an array of local Van cheeses and the traditional murtuga porridge, as well as eggs and strong tea. And if you're not a morning person or can't be bothered with the long queues at weekends, breakfast is served all day and well into the evening.
A visit to Cihangir wouldn't be complete without stopping at one of the numerous popular cafes. A favorite is Cafe Smyrna (Akarsu Caddesi 29, Cihangir) where you can sit outsides and watch the world go by.
If you have a sweet tooth then Ozkonak (Akarsu Caddesi 60, Cihangir) is the place for you. The home of puddings serves up Turkey's delicious desserts including firin sutla (rice pudding) and keskul, an almond-based custard pudding. Ozkonak also serves lunch, but make sure you leave room for treats!
Visitors who want a break from traditional Turkish fare would do well to stop at Miss Pizza (Hayvar Sokak 7, off Akarsu Caddesi). A hit with resident foreigners and locals alike, the restaurant, which only has six tables, serves a mean pizza as well as charcuterie platters and salads.
Where to shop
After antiques? A la Turca (Faikpasa No. 4 Cukurcuma, Cihangir Istanbul) is one of many shops along Cukurcuma street offering treasures from the past. Perhaps a little more upmarket than most, A la Turca boasts a large selection of antique rugs, textiles and chairs.
For the fashion conscious, Cihangir has a great selection of boutiques. For vintage look no further than Leyla Seyhanli (Altipatlar Sokak, 10, Cihangir), which as everything from 19th century ottoman outfits to dresses and suits from the fifties and sixties.
If you're after something a little more contemporary, Butik Buka (Hayriye Caddesi 18/A, Galatasaray, Beyoglu) could deliver. With a collection that is renewed weekly and produced in limited numbers, the boutique offers custom tailored garments that are one-of-a-kind.
FOLLOW THIS TOPIC