Mullen arrives in Iraq after visiting Afghanistan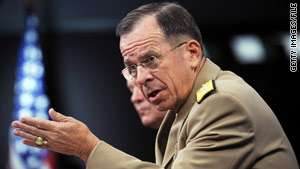 Adm. Mike Mullen, who is on a 10-day trip meeting with leaders around the world, arrived in Baghdad on Tuesday.
STORY HIGHLIGHTS
Iraq is the latest leg on Mullen's trip
Mullen arrives amid violence and political paralysis
Violence rips Baghdad with a roadside bomb
(CNN) -- Adm. Mike Mullen, chairman of the U.S. Joint Chiefs of Staff, arrived in Baghdad, Iraq, on Tuesday, the U.S. military said.
Mullen has been on a 10-day trip meeting with military and government leaders around the world, according to a statement on the Joint Chiefs of Staff website.
He came to Baghdad after visiting Afghanistan. He also visited Pakistan, India, and South Korea.
The visit is taking place during a spate of violence over the last 24 hours and as Iraqi lawmakers have yet to form a government after the March 7 elections.
A roadside bomb killed one person in Baghdad on Tuesday.
At least 25 people were killed on Monday. Two car bomb explosions on a road between Karbala and Najaf killed 19 people and wounded 52, most of whom were Shiite pilgrims walking on the road toward Karbala to mark the Shaabaniya holiday.

Video: Allawi: Iraqis have waited for 8 years

Video: Allawi: Iraq security forces not ready
In Baghdad, a suicide bomber drove a bus into the compound of Saudi-funded al-Arabiya TV in central Baghdad, killing at least six people and wounding 20, officials said.
The political stalemate comes at a critical period for Iraq, where the United States is in the process of drawing down its seven-year-old presence to a non-combat force of 50,000. And though accustomed to the slow pace of their politicians, Iraqis are increasingly weary of a way of life governed by a lack of basic services and security.
The mostly secular coalition led by Ayad Allawi in the March 7 parliamentary elections won two more seats than
Prime Minister Nuri al-Maliki's Shiite Muslim-dominated State of Law coalition, but neither slate won a big enough share of the 325-seat Council of Representatives to form a new government.
The result has been more than four months of jockeying for power between the two men and their supporters, with al-Maliki attempting to stay atop an alliance of Shiite parties and win a new mandate.
Allawi -- who served as the head of Iraq's interim government following the 2003 invasion -- predicted the impasse will last through August, perhaps as late as October, leaving Iraq unable to deal effectively with major issues such as security after the ongoing U.S. withdrawal.
FOLLOW THIS TOPIC