Israeli airstrikes hit Gaza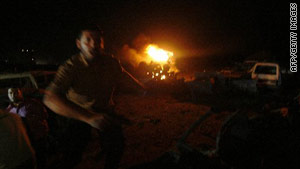 A Palestinian man shouts as flames from Israeli airstrikes burn in Gaza City late Friday.
STORY HIGHLIGHTS
NEW: Israel confirms three airstrikes across Gaza
NEW: Airstrikes were in response to rocket attack earlier in the day
One strike hit near the former Arafat compound in Gaza City, according to witness
Hamas is reporting eight wounded
Gaza City (CNN) -- Israel launched a series of airstrikes in Gaza starting late Friday in response to a rocket assault on Ashkelon earlier in the day.
The Israel Defense Forces said the strikes targeted three locations in Gaza: a Hamas "terror-activity site" in the north, a weapons manufacturing site in central Gaza and a weapons smuggling tunnel in Rafah.
The first strike around 11:30 p.m. (4:30 p.m. ET) hit a runway near the compound of the late Palestinian leader Yasser Arafat, which is now occupied by Hamas, according to a CNN stringer at the scene. Hamas security forces reported eight people wounded from the strike.
The coastal Israeli city of Ashkelon was hit by a rocket fired by Palestinian militants in Gaza early Friday, causing minor damage but no injuries, the Israel Defense Forces spokeswoman said.
Ashkelon, with a population of approximately 125,000 residents, is located about 6 miles (10 kilometers) from the Israel-Gaza border and has been the target of many rockets originating from Gaza -- some wounding residents.