ISAF: Suicide bombing kills 5 children in Afghanistan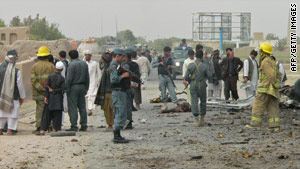 Afghan first responders gather at the scene of a suicide bombing Monday in Kandahar.
STORY HIGHLIGHTS
Suicide bomber kills five children in Afghanistan
Another unrelated explosion kills four Afghan civilians and wounds three
Records show that more than 400 civilians have been killed by IEDs this year
Kabul, Afghanistan (CNN) -- An explosives-laden vehicle driven by a suicide bomber detonated before reaching its target Monday, killing five Afghan children and injuring an Afghan police officer, according to a statement by the U.S.-led international military force.
The statement said the attack was aimed at the governor of the Dand district in Kandahar province, but the explosives detonated prematurely, causing civilian casualties. Another explosive device detonated nearby, causing no casualties, the statement said.
"This act of terrorism and the many like it should be all it takes for people to understand the motivation and thought process of the insurgents," said Maj. Gen. Michael Regner, deputy chief of staff for combined joint operations of the International Security Assistance Force Joint Command.
A second bomb on Monday killed four Afghan civilians and wounded three as they attempted to help Afghan Border Police members under attack from insurgents in Faryab province, according to an ISAF statement.
According to ISAF records, more than 400 civilians have been killed and 860 wounded by insurgent improvised explosive devices so far this year, the statement said.
FOLLOW THIS TOPIC