One killed after rockets hit Israel and Jordan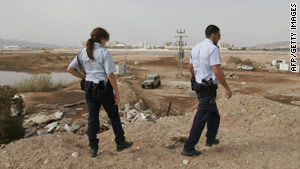 Israeli police inspect the site where a rocket reportedly landed on the outskirts of Eilat.
STORY HIGHLIGHTS
One man has died of injuries he received in Jordan
At least five other Jordanians were injured
Authorities are investigating rocket blasts around Red Sea ports
The source of the rocket fire is believed to be Egypt, Israeli military radio reports
Jerusalem (CNN) -- One person was killed and five others injured when a rocket landed in front of a hotel Monday in the city of Aqaba, Jordan, the official Jordanian news agency, Petra, reported.
Several apparent rocket explosions also were heard Monday just across the border, in the nearby Israeli city of Eilat, the Israeli military reported. No damage or injuries were reported.
In Aqaba, a rocket fired from outside Jordan landed in front of the Intercontinental Hotel, killing Subhi Alawneh and wounding five others, Petra reported. The news agency quoted Ali Al Ayed, the Jordanian minister of state for media affairs and communications.
Israeli military radio reported that one rocket landed in an open field near Eilat, while two more landed in Jordanian territory and two others in the Red Sea. The report said the rockets were fired from Egypt.
An eyewitness at the Intercontinental Hotel in Aqaba reported a "loud explosion" shortly before 8 a.m.
"We looked out of the windows, saw pigeons and birds flying away," the eyewitness said. "We felt a very strong explosion and saw some of the hotel windows shattered. The entire hotel shook. We saw two cars burning, one completely."
The eyewitness, who did not want to be named, said the rocket landed between two cars.
Israeli military radio later reported a sixth rocket hit and and exploded in the Egyptian Sinai peninsula Monday morning at the same time as the other five, close to an international peace force which was in the area. According to the report, the location of the sixth rocket strengthens the evaluation that the rockets aimed at Eilat and Aqaba were fired from the Sinai.
The Israeli military and Jordanian security forces said separately that they were investigating.
Aqaba, Jordan and Eilat, Israel are port cities on the Red Sea.
.
FOLLOW THIS TOPIC