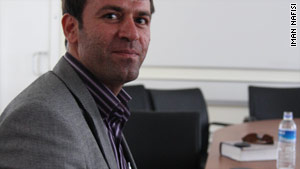 The wife of Iranian human rights lawyer Mohammad Mostafaei has been released from a Tehran prison.
STORY HIGHLIGHTS
Halimi says she had been detained on charges of "concealing a suspect"
Mostafaei has been granted asylum in Norway, she says
Groups: Asylum for Mostafaei is positive step toward saving client Ashtiani
Mostafaei gained notoriety for defending woman sentenced to stoning
Istanbul, Turkey (CNN) -- The wife of a prominent human rights lawyer who fled Iran said she was released on bail Saturday night after spending nearly two weeks in solitary confinement in Tehran's notorious Evin prison.
Fereshteh Halimi said she had been reunited with her 7-year-old daughter Parmida. "Parmida is really well," she told CNN from Tehran Sunday. "We stayed up until morning talking together."
She said she had been detained on charges of "concealing a suspect." Her husband, Mohammad Mostafaei, went into hiding July 24 at about the same time Halimi and her brother were detained.
Mostafaei had gained international attention for defending Sakineh Mohammadi Ashtiani, a 43-year-old mother of two who was sentenced to death by stoning after being found guilty of committing adultery.
Mostafaei has been granted asylum in Norway, his wife said.
Although Norwegian officials said they could not comment on individual asylum cases, Foreign Minister Jonas Gahr Store said in a statement he was pleased that Mostafaei is safe in Norway.
"Ever since the Norwegian authorities learned that Mr. Mostafaei had fled to Turkey, Norway has, like a number of other countries, been concerned that he should be given protection and not returned to Iran," Store said. "It is regrettable that the pressure on courageous defense lawyers such as Mr. Mostafaei is so great that they are compelled to flee. They are doing an extremely important job in Iran. Norway is committed to supporting human rights defenders in Iran and will continue to do so. We call on Iran to respect human rights and fulfill its international obligations."

Video: Iranian woman's lawyer released

Video: Method of execution?
We call on Iran to respect human rights and fulfill its international obligations.
--Norway Foreign Minister Jonas Gahr Store
"I think when they found that my husband was out of Iran and they couldn't reach him and I wouldn't be a good hostage any more, that's when they released me," Halimi said with a laugh.
The International Committee Against Stoning and the International Committee Against Execution said in a statement Mostafaei was in Norway, and that the committees "want to thank the Norwegian government for its prompt intervention in the case and for giving refuge to Mr. Mostafaei." The development is a positive step toward saving Ashtiani, the groups said.
Mostafaei slipped across the border into Turkey. He was initially put into a detention center for illegal immigrants and later released before traveling to Norway. He is one of hundreds of Iranians who smuggle themselves across the border to Turkey every month to request asylum in Western countries.
According to the Ankara, Turkey, office of the United Nations High Commissioner for Refugees, the number of Iranians fleeing political persecution has increased since the Iranian government launched a widespread crackdown on opposition activists and critics over the last year.
Halimi sounded euphoric, but acknowledged to CNN her family's legal troubles are far from over. Iranian authorities also briefly detained her brother and father around the time Mostafaei went into hiding.
"Me, my father and my brother were all released on bail," she said. "Now we should wait for our trial. I don't know if I'm banned or forbidden from leaving the country. So the future is really unclear."
She said it will probably be at least a year before she will get the chance to see her husband again.
In an interview with CNN on Friday in Istanbul, Turkey, shortly before he departed for Norway, Mostafaei denounced the Iranian government for forcing him to be separated from his wife and Parmida.
"The truth is even when someone talks about Parmida and says her name, its really hard for me to talk and I want to cry," Mostafaei said, his voice cracking with emotion. "The reason I fled is because there is no rule of law [in Iran]."
Speaking at a news conference Sunday in Oslo, Norway, Mostafaei said he was relieved to be in Norway and thanked the Norwegian government for its assistance, according to Norwegian broadcaster NRK. He said he was also relieved to hear of his wife's release.
Halimi said she was kept in solitary confinement for 13 of her 14 nights in prison.
"They kept telling me, 'If you tell us where your husband is, we will set you free,'" she said. "And I was answering, 'I don't know where he is, so how can I help you?'"
Journalist Iman Nafisi contributed to this report.
FOLLOW THIS TOPIC