Muslims around the world: Your thoughts on what Islam means today
STORY HIGHLIGHTS
CNN's Muslim in 2010 hit the streets in cities around the world to ask Muslims about their faith
We asked them how they celebrate their faith and what Islam means today
We want to hear from you too. Send your photos and video of life during Ramadan
For more Muslim in 2010 coverage over Ramadan go to cnn.com/ime
Editor's note: What are your thoughts on Islam today? Are you observing Ramadan? If so, how are you celebrating your faith? How do you think Islam has changed since the turn of the millennium? Send us photos or video or tell us in the comments below.
(CNN) -- "We have a very big responsibility to show the true meaning and the true essence of Islam." That's what it means to be Muslim today, according to Nashwa Zakharia, a PR director from the United Arab Emirates.
She says it has been "distorted" and "misrepresented" by world events and the actions of some individuals.
For Mohammed Abuhijlieh, an Assistant Project Manager in Abu Dhabi, Islam is about what it's always been about: "Being faithful, being honest, supporting the poor and feeding the needful."
During the current month of Ramadan, observing Muslims across the world fast from sunrise to sunset, pray more and spend time with loved ones. They celebrate their faith in many other ways too.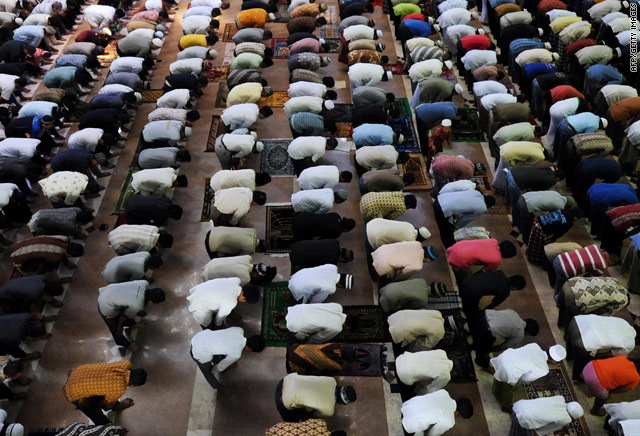 Gallery: Ramadan around the world

Video: Muslim in 2010: Celebrating faith

Video: Muslim in 2010: Changing Islam

Video: Muslim in 2010: Likes and dislikes
"I celebrate my faith by staying away from all sins, not hurting anyone," said Qais Salman, a civil engineer from Baghdad, Iraq.
For Irfan Majheed, an accountant from London, celebrating faith is all about family getting together "with food and music."
While some elements of being a Muslim may not have changed, some things are different since the turn of the millennium.
Malisha Choudhary, a housewife from London told CNN: "[Islam] is more exposed now, people are aware of the religion."
Emirati media specialist, Hazem Al Arraj agrees: "It has now, of course, changed for the best. In 1990, Islam was not really understood [by] other nations."
Yasin Tahir Najy, a TV technician from Baghdad, said Islam has not changed, but some people have.
"From its beginning until this moment, Islam is the same," he said. "What [has] changed are some Muslim characters, that [use] religion for their own interest.
"All those who impose their opinions -- in the name of Islam and religion -- on others," he said.
FOLLOW THIS TOPIC


Part of complete coverage on

In Saudi Arabia, women may seldom be seen, but they are starting to be heard -- especially when it comes to the country's guardianship system.

A new generation of Muslims needs to translate a Islam for the 21st century, says jurist and academic J. Hashim-Brown.

Fatemeh Fakhraie, Editor-in-Chief of Muslimah Media Watch, writes for CNN about the media's coverage of Muslim women.

Al-Madrasa is a center for Islamic study in Spain that is open to all faiths. CNN's Atika Shubert reports.

The sound of beating drums still fills the stadium as the UAE begins its new football season, but matches are kicking off a lot later this summer.

Show and tell us what it means to be Muslim today. Show us how Ramadan is observed where you live and show us your life during Ramadan.

What foods do you particularly look forward to when it's time to break your fast? How do you like to open your fast: with family, friends, in private?
At one o'clock on the dot, dozens of children burst through the door of Khasiki Sultan soup kitchen, clutching their pots and pans.


Today's five most popular stories