Surprising the critics and the skeptics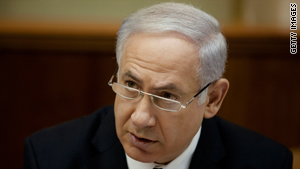 Israeli Prime Minister Benjamin Netanyahu agreed to participate in direct peace negotiations with the Palestinian Authority.
STORY HIGHLIGHTS
Israel agrees to participate in direct peace talks with the Palestinian Authority
Little in this latest diplomatic initiative to offer hope that these talks will produce results
Talks could fail unless Israeli PM convinces his coalition to extend settlement freeze
(CNN) -- "We are coming to talks from a real desire to achieve a peace agreement between the two peoples."
So pledged the Israeli Prime Minister Benjamin Netanyahu to his cabinet Sunday after agreeing earlier in the week to participate in direct peace negotiations with the Palestinian Authority.
"I know that there is a considerable skepticism after 17 years having passed since the beginning of the Oslo process." he said. "It is possible to understand why this doubtfulness exists. We are seeking to surprise the critics and the skeptics"
If this latest round of negotiations between Israelis and Palestinians delivers an agreement within a year as proposed those critics and skeptics will not only be surprised -- they will likely be stunned beyond belief. It is, of course, easy to wager against the prospects of such talks; 60 years of history is on the side of the naysayers. But as wonderful as it would be to say that this time will be different it is difficult seeing an end to the current state of deadlock. Despite the time, money and careers invested in the "peace process" there is very little in this latest diplomatic initiative to offer hope that these talks will not come to the same ignominious end of peace talks past. Remember Madrid? Oslo? Wye River? Annapolis?

Video: Israel, Palestine to resume talks

Video: Mideast talks to resume

Video: Middle East peace talks to relaunch
We in the international press have dedicated a fair bit of ink and airtime to the resumption of these direct talks between the two sides, but the story has hardly ranked as a top news item in Israel. Two of the country's largest newspapers decided the story was not worthy of leading their publications the day after the announcement, and in general journalists in the Jewish State have been far more concerned about Iran and the soap opera drama involving the naming of its military's new chief of staff than about a peace process that few Israelis have faith will deliver results.
Nahum Barnea, a political commentator for the widely read daily Yedioth Aronoth, sums up the Israeli mood succinctly: "The two parties have exchanged a lot of words in the 17 years that have elapsed since Oslo, and between those words there have been quite a lot of people killed and injured, but no peace agreement. We've seen that movie. We've seen it again and again and again. It is hard to believe that this time it is going to have a happy end."
It's a sentiment shared by many Palestinians who are no more exited about peace prospects than their Israeli neighbors. The Arabic daily Ashaq Alawsat reported Sunday that the U.S. announcement that talks would resume without pre-conditions created considerable anger and disagreement within the PLO sparking a last minute crisis that almost derailed the entire process. Adding to the less than positive atmosphere is the Palestinian warning that they will suspend talks if Israel does not extend the current West Bank settlement construction moratorium that is due to expire at the end of September. In other words, there's a danger talks will fall apart right after they've begun unless Netanyahu convinces his right wing coalition to extend the settlement freeze - something his partners don't want to do and a topic he has been less than clear about when asked in public.
And what will the two parties talk about once they begin meeting? It seems they have different ideas about that as well. Palestinians insist core issues in the conflict like permanent borders, Jerusalem, and refugee questions must be addressed head-on while Israel wants to talk security and recognition of Israel as a Jewish state before any dealing with final-status issues.
And of course there is the 800-pound guerrilla in the room that no one really wants to talk about at this point - the Gaza Strip - and the approximately 1.5 million Palestinians living under a separate political entity headed by the Islamist and anti-Israel Hamas movement that is subject to a joint Israeli and Egyptian blockade.
With this just being just a short list of potential stumbling blocks are there any reasons to be optimistic? Alas, not many, but perhaps the fact that expectations are so horrendously low for these upcoming talks is a good thing. The more cynical take on that would be: the less people are invested in the process, the less they will care when the talks fail. But looked at more positively perhaps the nearly universal skepticism provides the Israeli and Palestinian leaders just the room and cover they need to engage in unobstructed and in-depth negotiations that lead to very hard decisions being taken by both sides bringing about an historic settlement to one of the world's longest running conflicts.
Call us skeptical and critical, but who wouldn't like to be surprised?
FOLLOW THIS TOPIC