Iraq confirms 2009 escape of British aid worker's killer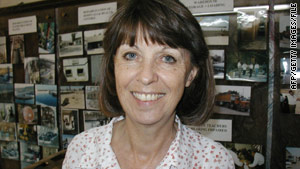 British aid worker Margaret Hassan's family wants to know where her remains are, her sister says.
STORY HIGHLIGHTS
Iraqi government confirms escape took place last year
Government says it did not know convicted killer was missing until last month
Ali Lutfi Jassar al-Rawi sentenced to life in prison in 2009 for killing Margaret Hassan
Al-Rawi was appealing conviction in aid worker's death
(CNN) -- An Iraqi man convicted of kidnapping and killing a British humanitarian worker in 2004 escaped from Abu Ghraib prison last year, Iraq's deputy justice minister said Monday.
It was the first time the Iraqi government had confirmed that Ali Lutfi Jassar al-Rawi was missing. Al-Rawi, convicted last year in the death of aid worker Margaret Hassan, escaped from the prison near Baghdad on September 10, Deputy Justice Minister Busho Ibrahim said.
The escape was an "inside job," Ibrahim said. Some guards gave al-Rawi a prison uniform, enabling him to walk outside the prison in the middle of the day. A number of guards were arrested, he said, and the investigation continues. He did not say how many guards were implicated in the escape.
Ibrahim said officials did not know of al-Rawi's escape until a month ago. The British Embassy last month said Foreign Secretary William Hague spoke of the matter to Iraqi Foreign Minister Hoshyar Zebari. "Mr. Zebari assured Mr. Hague that the Iraqi government [was] aware of the case and were keen to ensure justice," an embassy statement said.
A spokesman for Hassan's family said in a statement last month that al-Rawi had been due in court July 16 as part of an appeal against his conviction. Concern was growing over his fate, as he had missed some earlier hearings, the statement said. The court was told he had escaped in an "incident."
"Jassar is known to be part of the gang that kidnapped and killed my sister," said Deirdre Manchanda, Hassan's sister, in the statement. "We have fought for justice for six years, only to find that not one member of this gang can be brought to justice."
Hassan's family only wants to know where her remains are and bring them home for burial, she said. "We can only ever hope to do that if he is recaptured and brought back to face justice."
Al-Rawi was sentenced to life in prison in June 2009 for killing Hassan, who headed operations in Iraq for Care International. Hassan, a highly respected humanitarian official in the Middle East who was in her 60s, was kidnapped on the street. The dual British-Iraqi citizen appeared in hostage videos where she pleaded for her life and urged British troops to withdraw from Iraq.
Videotapes surfaced purportedly showing her killing. Arabic-language network Al-Jazeera reported that it had obtained a video showing a masked militant shooting a blindfolded woman, who was referred to as Hassan, in the head using a handgun. The network decided to wait to report the news until it confirmed the tape's authenticity, and it was never aired. But then-British Foreign Secretary Jack Straw said Hassan's family was informed that officials believed she had been murdered.
Al-Rawi was arrested in May 2008. He was also convicted of attempting to blackmail Hassan's family in exchange for revealing the location of her body.
Al-Rawi was one of two people found guilty in connection with the case. The other person was sentenced to life in prison in 2006, but the sentence was reduced on appeal, court officials said.
Shortly after Hassan's abduction, patients at a Baghdad hospital took to the streets in protest, crediting her with helping rebuild the medical facility.
CNN's Mohammed Tawfeeq contributed to this report.
FOLLOW THIS TOPIC