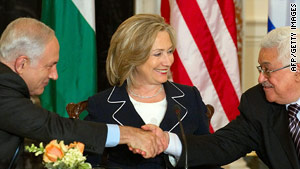 Israeli Prime Minister Benjamin Netanyahu (L) with Mahmoud Abbas on September 2.
STORY HIGHLIGHTS
NEW: Secretary of State Hillary Clinton plans to attend the next round of talks
Chief Palestinian negotiator Saeb Erakat supports the idea
The prime minister's offer follows the resumption of face-to-face talks in Washington
They remain at odds over Israel's building new homes in the West Bank
Jerusalem (CNN) -- Israeli Prime Minister Benjamin Netanyahu has offered to meet Palestinian leader Mahmoud Abbas one-on-one every two weeks to discuss "the agenda for a peace agreement," he said Sunday.
"I believe that what is needed now in order to move the process is not multiplicity of [negotiation] teams but rather decisions of leaders," Netanyahu said at the start of Israel's weekly Cabinet meeting.
Chief Palestinian negotiator Saeb Erakat said that was "the right approach."
"The decisions are made by Abu Mazen and by Netanyahu," Erakat said, using a common nickname for Abbas.
The two sides resumed face-to-face negotiations over their long-running conflict in Washington last week, but violent Palestinian groups including Hamas vowed to continue attacks on Israelis.
Negotiators for the two sides agreed to hold daily meetings, a Palestinian source said during the Washington talks.

Video: West Bank settlers wary of peace process

Video: Israelis, Palestinians talk peace
Also on Sunday, the Israeli Cabinet approved the appointment of Major General Yoav Galant as the next chief of staff, Israel's highest-ranking military officer. Current chief of staff Gabi Ashkenazi is expected to step down in six months.
In another development, at least two people were killed when Israel bombed tunnels in Gaza overnight, Hamas said.
Israel confirmed it had targeted "terror and smuggling" tunnels. Palestinians use the tunnels to bring materials into Gaza to get around Israeli control of their borders.
Netanyahu and Abbas met in Washington last week deadlocked over the contentious issue of Israeli settlements in the West Bank.
The two men met alone behind closed doors for more than an hour-and-a-half Thursday in a State Department room just outside Secretary of State Hillary Clinton's office.
The one-on-one meeting followed their on-camera pledges to move the peace process forward and their hardy handshake with Clinton in the middle.
But several diplomatic sources involved in the summit said the two leaders emerged from their meeting in a stalemate over whether Israeli settlements should continue.
The two leaders met with Clinton to give a readout of their meeting.
According to Fadi Elsalameen, who accompanied Abbas, the two leaders were very blunt about their opposing views.
Netanyahu is under pressure from the Palestinians and the Obama administration to extend a 10-month moratorium on building Israeli settlements in the disputed West Bank territory.
That moratorium is set to expire September 26.
Netanyahu's conservative coalition government wants the Israeli prime minister to end the moratorium.
Elsalameen said that during the leaders' private discussion, Abbas asked Netanyahu to extend the settlement freeze.
Netanyahu reportedly said, "I cannot extend."
Elsalameen says Abbas responded, "Then I cannot continue."
Before the summit even began, Abbas had threatened to abandon final status talks if Netanyahu allowed Israeli settlements to go forward.
Elsalameen said Clinton was asked about what would happen if Israel continued to expand the controversial Jewish settlements. Elsalameen said Clinton responded, as President Barack Obama had publicly stated, "Then all bets are off."
Despite the standoff between the Palestinian and Israeli leadership, Elsalameen said that starting Sunday, their chief negotiators will meet on a daily basis to try to entertain compromises.
According to U.S., Israeli and Palestinian officials, the hope is that during those talks, some trust and confidence will be developed, and some of the other issues will be settled, possibly making it easier to find a formula for extending the moratorium.
The issue could then be discussed when Netanyahu and Abbas meet again in Egypt on September 14 and 15.
Clinton will travel to Sharm el-Sheikh and Jerusalem September 14 and 15 to participate in the talks, a senior state department official told CNN Sunday. Clinton will be joined by George Mitchell, the U.S. special envoy for Middle East peace.
Both sides, and the Americans, fully expect some formula to be found at the last minute to extend the moratorium, the officials said.
Obama told the leaders not to ruin this opportunity, according to the sources, and to make sure September 26 goes by quietly without incident.
While nothing was agreed to, officials from both sides said the tone of the talks was fairly decent, and they expressed cautious optimism.
Netanyahu was apparently in a good mood after the meetings, and Abbas, who was nervous and tense the night before the talks, seemed to come away from them in a better mood.
He didn't feel pressured as he has been recently and was appearing to aides to be a little more relaxed and confident, they said.
Elsalameen said Abbas would be visiting Libya and Tunisia to drum up support for the Palestinian people.
CNN's Guy Azriel, Suzanne Malveux and Elise Labott contributed to this report.
FOLLOW THIS TOPIC