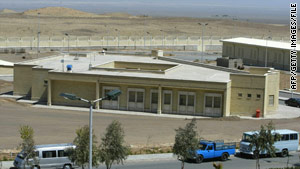 Iran enriched almost 1,000 kilograms of uranium at its Natanz facility, a report estimates.
STORY HIGHLIGHTS
The IAEA says Iran has been producing low enriched uranium since 2007
Iran has produced more than 6,000 pounds of nuclear fuel, it says
The report says Iran has not been cooperative
(CNN) -- In defiance of U.N. Security Council resolutions, Iran continues its uranium enrichment activities, according to a report by the International Atomic Energy Agency released Monday.
At its nuclear facility in Natanz, Iran estimated that between November 23 and August 6, it produced 995 kilograms (2,194 pounds) of low enriched uranium, which can be used as fuel for nuclear reactors or, if enriched further, for nuclear weapons, as many governments fear.
Iran has produced a total of 2,803 kilograms (6,180 pounds) of low enriched uranium since the start of operations in 2007, according to the confidential report, which was obtained by CNN.
The report listed developments to Iran's nuclear program since the last report in May.
Iran denies that it is enriching uranium for non-peaceful purposes.
In its report, the IAEA said that the destination of the nuclear fuel was less certain.
"Based on an overall analysis undertaken by the agency of all the information available to it, the agency remains concerned about the possible existence in Iran of past or current undisclosed nuclear-related activities involving military-related organizations, including activities related to the development of a nuclear payload for a missile," the report said.
Iran must cooperate more with the agency to clarify the intent of its nuclear program, including providing access to all sites, equipment, persons and documents requested by the agency, the report said.
"Iran has not provided the necessary cooperation to permit the agency to confirm that all nuclear material in Iran is in peaceful activities," it said.
Iran has rebuffed international demands that it halt its uranium enrichment program, insisting that it wants the nuclear fuel for peaceful uses. In low concentrations, enriched uranium can be used to fuel civilian power plants -- but in extremely high concentrations, it can be used to produce a nuclear bomb.
Iran announced in February that it wanted to produce enriched uranium at a 20 percent concentration for use in a medical research reactor. The United States has accused Iran of working toward nuclear weapons, while the atomic energy agency has called for increased safeguards at the Iranian enrichment plant at Natanz to ensure it is not concealing nuclear material.
According to the IAEA report, Iran has started the enrichment of uranium up to 20 percent at Natanz.
Last month, the United States extended sanctions against Iran, saying it was targeting a number of Iranian businesses and groups accused of helping organizations such as Hezbollah, Hamas and the Taliban.
In June, the United Nations imposed some of its toughest sanctions yet of Iran. The new sanctions include cargo inspections, new controls on Iranian banks "to block the use of the international financial system ... to fund and facilitate nuclear proliferation," restrictions on the Islamic Revolutionary Guard Corps, a new U.N. panel of experts to help monitor and enforce sanctions, and asset freezes on 40 entities and an individuals.
Also in June, the U.S. Treasury Department announced sanctions targeting the country's nuclear and missile programs -- identifying more than 20 companies and several individuals allegedly involved with those programs.
FOLLOW THIS TOPIC