U.S. soldier suspected in fatal shooting of 2 fellow soldiers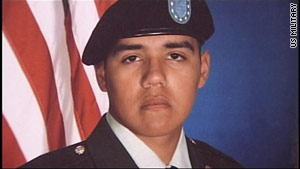 Spc. John Carrillo, 20, of Stockton, California, died on Friday, the Defense Department said.
STORY HIGHLIGHTS
Spc. Neftaly Platero is in pretrial confinement, officials say
The U.S. military links Platero to the deaths of Carrillo and Noonan
Platero and Noonan may have been friends
The incident remains under investigation
Read more about this story from CNN affiliate WFSB.
Baghdad, Iraq (CNN) -- A U.S. soldier is in custody in connection with the shooting deaths of two fellow soldiers and the wounding of a third in Iraq, the U.S. military said Tuesday.
Spc. Neftaly Platero is in pretrial confinement, a U.S. military statement said.
Platero is suspected in the deaths of Spc. John Carrillo Jr., 20, of Stockton, California, and Pfc. Gebrah P. Noonan, 26, of Watertown, Connecticut, the military said.
Carrillo and Noonan died Friday of injuries sustained in a "non-combat" incident that occurred a day earlier, the U.S. Department of Defense said.
They were assigned to 3rd Battalion, 15th Infantry Regiment, 4th Infantry Brigade Combat Team, 3rd Infantry Division, Fort Stewart, Georgia.

Video: Soldier mourned after death
The incident remains under investigation.
"Our condolences go out to the families of those service members whose lives were lost," Brig. Gen. Jeffrey Buchanan said in a statement. "We are saddened by this tragic incident."
Carrillo's mother, Desiree Carrillo, told CNN that her son was a good son and a good father to a 3-year-old and a 3-month-old.
"He was a very young father and he was in school, but he joined the military to provide more for his family," she said.
Desiree Carrillo said the military notified them of Spc. Carrillo's death on Friday after family members learned through the media their son may have been killed by another soldier.
Dane Street, Noonan's former track coach, told WFSB that Noonan was loved by nearly everyone.
"His big hair matched his big personality," Street said. "He loved experiencing life, and it was great."
Several people posted rest-in-peace messages on what appears to be Noonan's Facebook page. The page of "Gebrah Noonan" also lists "Neftaly Platero" -- the same name as the suspect -- as a Facebook friend.
CNN's Mohammed Tawfeeq contributed to this report.