Israeli court denies Nobel laureate deportation appeal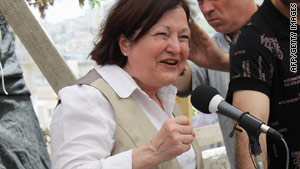 Mairead Maguire was awared the Nobel Peace Prize in 1976.
STORY HIGHLIGHTS
NEW: Mairead Maquire has until Sunday to appeal the latest decision
Maguire was trying to visit Israel and the Palestinian territories
Palmor said Maguire's arrival was a "deliberate action of confrontation"
Jerusalem (CNN) -- An Israeli court rejected Irish Nobel Peace Prize winner Mairead Maguire's appeal of a ban on her entry into Israel for a visit to the Jewish state and the Palestinian territories, her lawyer said Friday.
Maguire, who is held at Ben-Gurion International Airport's detention facility, was given until Sunday to file another appeal before deportation is carried out, said attorney Fatma El-Ajou.
She was refused entry into Israel on Tuesday as she arrived with a delegation of other high-level women's rights activists from around the world, the Israeli Foreign Ministry said.
Maguire, along with fellow Nobel Peace Laureate Jody Williams and founders of the Nobel Women's Initiative, was set to lead a delegation to Israel and the Palestinian territories over the next seven days. The delegation planned to travel to Jerusalem, Haifa, Nazareth, Ramallah, Hebron and Bil'in to learn from and highlight the work of female peace builders.
Israeli Supreme Court Justice Esther Hayut issued a temporary injunction Wednesday, preventing Maguire's deportation, and then ordered the Central District Administrative Court in Petah Tikvah to hold an immediate hearing. That court extended the injunction until Friday's decision was made.
"She had been on two or three flotillas to Gaza and, as is the case with participants in flotillas, she had been deported with all the other participants, and the law is that once you are deported you are denied an entry visa," Israeli Foreign Ministry spokesman Yigal Palmor said Tuesday.
El-Ajou, an attorney with Adalah, the legal center for Arab Minority Rights in Israel, said Tuesday her client "was told the reason to refuse her entry was her participation in the flotilla to Gaza in June."
Maguire was on the MV Rachel Corrie, an Irish cargo ship that set sail for Gaza loaded with humanitarian supplies in spite of an Israeli naval blockade. It was seized by the Israeli navy before it reached Palestinian-controlled Gaza, and its passengers were deported.
The Rachel Corrie's mission came just five days after Israeli commandos raided a similar flotilla in an incident that left nine passengers aboard the Mavi Marmara dead.
"I don't know what she was thinking when she took that plane to Israel but I can guarantee you that she knew very well that she does not have an entry visa and her entry will be denied after having provoked Israeli authorities time and again," Palmor said. "I believe it was a deliberate action of confrontation."
Maguire was awarded the Nobel Peace Prize in 1976 for her efforts to end sectarian violence in Northern Ireland.
CNN's Kareem Khadder and Michal Zippori contributed to this report.
FOLLOW THIS TOPIC