U.S. still groping for way to save Mideast talks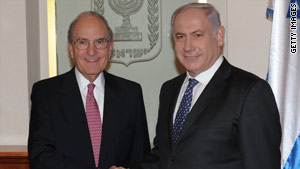 U.S. Mideast peace envoy George Mitchell, left, meets with Israeli Prime Minister Benjamin Netanyahu.
STORY HIGHLIGHTS
Intensive U.S.- Israeli negotiations are seeking a solution, sources say
Suggestions from Obama have been rejected by Netanyahu, they say
"We've bought ourselves a little time," a U.S. official says
Washington (CNN) -- The United States is scrambling to find a way to save the Middle East peace talks before an Arab League meeting in Libya this weekend.
U.S., Israeli, Palestinian and Arab sources say intensive negotiations continue between the United States and Israel to find a formula on Israel's construction of new settlements that will keep Palestinian President Mahmoud Abbas at the peace talks.
The sources said the Obama administration has floated a possible set of assurances the United States could offer if Israeli Prime Minister Benjamin Netanyahu agreed to extend a freeze on new settlements, but the prime minister has so far rejected it.
"Neither side trusts the other side, and neither side is convinced they understand what the other's bottom line is," one senior U.S. official said.
Abbas has threatened to walk out of talks without an extension of the settlement moratorium, which expired last week, but has delayed a decision until an emergency meeting of the Arab League this weekend in Libya. The senior U.S. official called the delay "very valuable."
"We have bought ourselves a little time" the official said.
U.S. and Israeli officials said a number of possible formulas are being discussed with Netanyahu, including a two-month extension of the settlement freeze and a strict limit on settlement construction while peace talks continue. Secretary of State Hillary Clinton spoke to Netanyahu on Sunday, the fifth time in the past week.
But even as U.S. Mideast peace envoy George Mitchell returns from the region, where he had another set of talks with Israelis and Palestinians over the settlement issue, U.S. officials continue to say that they have absolutely no idea what Netanyahu will ultimately agree to do, or whether it will be enough to keep Abbas at the table.
One senior Israeli official said that Netanyahu is "determined to make sure talks go forward," and is "cautiously and discretely" discussing the settlement issue with the United States and his own cabinet. The official said Netanyahu is also considering a set of confidence-building measures to offer the Palestinians in lieu of a full settlement freeze.
"Something has to be agreed on to keep [the Palestinians] at the talks, but not put a full freeze on settlements," another senior Israeli official said.
Several senior Arab diplomats say Arab states are waiting to see what Netanyahu proposes before making a recommendation to Abbas on whether to abandon the talks. All of the diplomats said that nobody wants to see the talks break down completely.
"I can't see where we go from here," one senior Arab diplomat said. "It took close to two years to get the talks started again and I don't think we can wait another two years if they break down. The situation is highly unstable and if that happens, we are headed for an uncertain future."
FOLLOW THIS TOPIC