Chavez visits Iran days after signing nuclear deal with Russia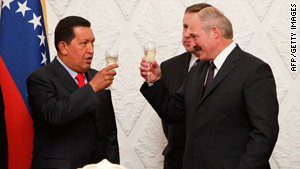 Venezuelan President Hugo Chavez, left, shares a toast with Belarusian President Alexander Lukashenko.
STORY HIGHLIGHTS
NEW: Venezuelan president calls for greater cooperation
Chavez' visit follows stops in Russia and Belarus to sign economic deals
Iran has shown interest in uranium deposits in Venezuela
Chavez and Ahmadinejad have referred to each other as "brother"
Tehran, Iran (CNN) -- Venezuelan President Hugo Chavez urged widening cooperation with Iran during his visit there Tuesday, the official Islamic Republic News Agency reported.
His visit comes on the heels of stops in the Russian Federation and Belarus, where the Venezuelan leader signed economic cooperation deals, which included an agreement with Moscow to build Venezuela's first nuclear power plant.
With its burgeoning nuclear program, Iran has shown interest in uranium deposits in Venezuela.
Chavez met with Iranian President Mahmoud Ahmadinejad, the IRNA news agency reported. The Venezuelan president said ample opportunity exists to beef up ties and economic cooperation, IRNA said. The agency reported Chavez was accompanied by his ministers of oil, industry, communications and trade.
Chavez' visit to Tehran comes almost a year after the Iranian leader's November 2009 trip to Venezuela.
The Venezuelan president and the president of the Islamic Republic of Iran have cultivated warm relations publicly, exchanging hugs and referring to one another as "brother."
In 2009, Chavez welcomed Ahmadinejad with full military honors.
"We are here to welcome you, brother Ahmadinejad. Leader. Brother. Comrade," Chavez said then.
Ahmadinejad, in return, called Chavez "a brother, who is resisting like a mountain the intentions of imperialism and colonialism."
Chavez is among Ahmadinejad's top supporters in Latin America. The leaders find common ground in their opposition to U.S. foreign policy.
Chavez began his diplomatic trip Thursday to seven countries across Europe and the Middle East, according to Venezuelan state news agency AVN. Syria and Portugal are also on Chavez' itinerary.
CNN's Ben Brumfield contributed to this report.
FOLLOW THIS TOPIC