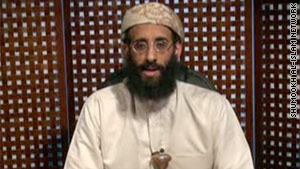 A new video message from militant Anwar al-Awlaki was posted on the jihadist website Shumoukh al-Islam.
STORY HIGHLIGHTS
Yemeni-American cleric says Islam is in "severe need for guidance"
An al Qaeda spokesman also releases a new video
Anwar Al-Awlaki has been linked to al Qaeda in Yemen, where he is suspected of hiding
(CNN) -- Yemeni-American cleric and militant Anwar al-Awlaki appeared in a new video message Saturday, saying that Islam is in "severe need for guidance in these dark situations" and that the religion is "exposed to fateful dangers."
In the limited portion of the video that was immediately available to CNN, al-Awlaki called on Muslim scholars to help address the situation.
Al-Awlaki has been linked to al Qaeda terrorists in Yemen, where he is believed to be in hiding.
U.S. officials say al-Awlaki helped recruit Umar Farouk AbdulMutallab, the Nigerian man charged with trying to blow up a Northwest Airlines trans-Atlantic flight as it landed in Detroit, Michigan, on Christmas Day.
Al-Awlaki is also said to have exchanged e-mails with accused Fort Hood shooter, Maj. Nidal Hasan.
U.S. officials have confirmed that he is on a CIA and military hit list to be captured or killed.
CNN could not immediately verify the authenticity of the video, including when or where the taping took place. The video message was posted Saturday on the jihadist website Shumoukh al-Islam.
The video's release came on the same day that an American-born al Qaeda spokesman urged Muslims to carry out individual jihad in the United States and Europe in a new video.
"My brothers: Know that jihad is your duty as well, and that you have an opportunity to strike the leaders of unbelief and retaliate against them on their own soul, as long as there is no covenant between you and them," said the spokesman, Adam Gadahn, in a video posted to various jihadist forums, according to the SITE Intelligence Group.
"Here you are in the battlefield, just like the heroes before you like Muhammad Atta and ... Umar Farouk AbdulMutallab, Faisal Shazad and hundreds of others," Gadahn said, referring to the leader of the 9/11 attacks, the man accused of trying to blow up a plane last Christmas, and the would-be Times Square bomber.
A transcript of the tape was supplied by SITE, a terrorist-tracking organization based outside Washington. SITE said the video was produced by al Qaeda's media arm and was in Arabic with English subtitles. The video ran nearly 50 minutes, SITE said.
Both messages come amid increased threats of attacks on Western targets from al Qaeda.
This month, the second edition of an online al Qaeda magazine surfaced, featuring frank essays, creatively designed imagery, and ominous terror tips such as using a pickup as a weapon and shooting up a crowded restaurant in Washington.
The magazine is called Inspire, and intelligence officials suspect that an American citizen named Samir Khan, now living in Yemen, is the driving force behind the publication.
The latest edition emerged on the 10th anniversary of the suicide attack on the guided missile destroyer USS Cole, which was struck as it refueled in Aden, Yemen. Seventeen people were killed in the bombing.
FOLLOW THIS TOPIC