Iran nuclear envoy 'agreeable' to talks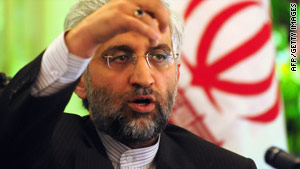 Jalili told EU officials he was prepared to meet to discuss Iran's nuclear program.
STORY HIGHLIGHTS
The meeting with the six major global powers can start after November 10, Iran says
A top European diplomat calls it a "very significant" development
Iran's president says the country won't yield international rights to peaceful energy
Tehran, Iran (CNN) -- An Iranian envoy is willing to meet starting next month with the six major global powers to hold talks on its nuclear program, a top European diplomat said Friday.
European Union Foreign Policy Chief Catherine Ashton called the development "very significant."
"This morning I have had a letter delivered through the ambassador from Iran, from Dr. [Saeed] Jalili, to say that he welcomes the fact that I have been in touch with him and that he is agreeable to beginning discussions after the 10th of November and wants to agree a time and place," Ashton said Friday.
"I think this is a very significant move and we're now in touch with Iran this morning to see whether we can agree the time and the place as quickly as possible."
Iranian President Mahmoud Ahmadinejad has taken a hardline ahead of nuclear talks scheduled for next month with world powers skeptical of his government's intentions.
Ahmadinejad has said Iran is ready to hold talks, but has warned that the Islamic republic won't yield any of its international rights to peaceful nuclear energy development, according to recent reports by state media.
"Holding talks with Iran is the best choice for you," Ahmadinejad was quoted by state-run Press TV as saying at a rally in Ardebil in northwestern Iran earlier this month. "You have no other option. All the other ways are closed. You know the fact very well."
The United States and other world powers fear Iran is developing a nuclear program for military purposes. Iran has denied those allegations.
In September, Ahmadinejad said an Iranian representative would meet with the "P5 plus one" group. The group is made up of the five permanent members of the United Nations Security Council -- the United States, Britain, France, China and Russia -- along with Germany.
Nuclear talks between Iran and the six powers have been stalled since October 1, 2009, when the two groups last met in Geneva.
The EU has proposed the two sides meet again in mid-November back in Geneva. Manouchehr Mottaki, Iranian foreign minister, has said that November 15 had been suggested for a meeting date.
It may be a sign that Tehran is feeling the bite of increased sanctions imposed in recent months to pressure a return to talks.
Iran is now subject to four sets of U.N. sanctions, while the United States and the EU have also imposed separate penalties on Iran over its refusal to stop enriching uranium.
Still, Ahmadinejad has said Iran is not weakening in its resolve. "They thought they can weaken the Iranian nation through imposing sanctions and posing threats, but Iranians have showed integrity, convergence and strength."
FOLLOW THIS TOPIC