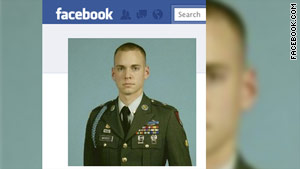 The family of Nicholas Moody has set up a Facebook page dedicated to bringing him home.
STORY HIGHLIGHTS
A security contractor has been jailed in Abu Dhabi since September, his mother says
The U.S. State Department says its consular officers have met with him 3 times
Lorina Moody says her son was carrying firearm parts when he was arrested
Nicholas Moody was in Iraq and Afghanistan with the National Guard, his mother says
(CNN) -- A security contractor from Nevada has been locked up for seven weeks in the United Arab Emirates, his mother said Thursday, as his family seeks answers about what landed him in prison and how long he'll remain there.
Having served in Iraq and then Afghanistan as part of the California and then Nevada National Guards, Nicholas Moody, 23, was working for a private security contractor when he stopped over in Abu Dhabi, his mother Lorina Moody told CNN. He was arrested on September 29, during an 18-hour layover while heading back from Iraq, for carrying firearms accessories -- parts that could accompany a gun, though no firearm itself -- which is illegal in the United Arab Emirates, his mother said.
"Our son is the type of individual who would not have willingly broken the law," said Moody, of Susanville, California. "Now, we're caught in a situation where we don't [know] where to turn to. We don't really have any way of knowing what's going to happen to him."
The U.S. State Department confirmed that Nicholas Moody has been detained, saying that U.S. consular officers visited him on September 30, October 6 and November 10.
"During those visits, he conveyed he was being treated fairly," State Department spokesman Mark Toner said in a statement. "We will continue to monitor the case."
Nicholas' family, meanwhile, is hoping for action. Lorina Moody said she's talked to her son briefly two weeks, the last time on November 11. Only recently did the family find an English-speaking lawyer, and he has only been able to talk to Nicholas twice.
While she has been assured Nicholas is doing well, Lorina Moody said she's still coming to grips to how he landed in jail.
After graduating from Susanville's Lassen High School in 2005, Nicholas enrolled in the California National Guard and, for a time, served in Iraq, according to his mother. He later moved to Reno, intending to attend the University of Nevada campus there, and also joined the Nevada National Guard.
Nicholas became an inactive Guardsman when he took his latest job in Iraq with the security company, which Lorina Moody declined to name. According to CNN affiliate WTVN, he was carrying a front grip and cleaning kit for a gun and other items he needed as an armed guard when he was caught.
"It seems so ironic that a man who, after serving our country in two combat zones ... is the one who got pulled aside," Lorina Moody said.
While ceding that the parts he was carrying might constitute a crime in the UAE, she said she did not feel what Nicholas has gone through so far -- including limited contact with his family, lawyer and the U.S. government, as well as little understanding of the possible sentence -- exceeds what he deserves.
Lorina Moody said she initially kept the matter private, so as not to "inflame the situation." But, heeding the advice of her son's lawyer in the Persian Gulf country, she's taken the cause public in recent days -- reaching to out the media and setting up a Facebook page.
Nicholas' next court date is November 29, though his mother said she's not sure what could happen to him -- whether he'll be sentenced to time served, be compelled to spend months or years more in prison or have to pay a fine.
Until then, she's talking and hoping for the best. She describes her contact with U.S. officials so far as "courteous," but "minimal." And she hopes getting Nicholas' story out there will help his cause.
"I understand" the limits on what officials can do, she said. "But I am this man's mother, and that is not enough."
CNN's Laurie Ure contributed to this report.
FOLLOW THIS TOPIC