Report: Karzai open to Taliban setting up office in Turkey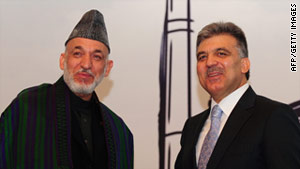 Hamid Karzai (left) made the statement during a press conference with Turkish President Abdullah Gul (right).
STORY HIGHLIGHTS
Karzai says there have been talks about a Taliban office in Turkey, state-run media reports
The Afghan president says that he would be "happy" to see that happen
Several months ago, an Afghan official noted a "new phase" in reconciliation with Taliban
(CNN) -- Afghanistan President Hamid Karzai said Friday that he'd welcome a Taliban office opening in Turkey, that country's state-run news agency reported, adding that such a development could help peace talks in his war-torn nation.
Karzai made his remarks during a joint press conference with Turkish President Abdullah Gul and Pakistani President Asif Ali Zardari, following a meeting of the three leaders at Istanbul's Ciragan Palace.
The Afghan president acknowledged that there have been discussions about Taliban officials setting up somewhere in Turkey "in order to facilitate reconciliation and integration," according to the Turkish news agency Anadolu.
"If Turkey can be kind to provide such a venue we, the government of Afghanistan will be pleased and happy to see that facilitation (in) Turkey," said Karzai.
The president referenced an article published earlier this week in the British newspaper The Daily Telegraph, in which former Taliban ambassador to Pakistan Mullah Zaeef said that having the Taliban set up an office in a neutral country may help bring about peace.
Zaeef -- who served time in the detention center at Guantanamo Bay, Cuba, and is now living openly in Kabul -- suggested that a country like the United Arab Emirates, "which is not interested in interfering in Afghanistan like Pakistan or China," would be a good option.
While not an official representative of the Taliban, the former ambassador did attend a meeting in October involving political figures from Pakistan and Afghanistan.
Farouq Wardak, Afghanistan's education minister, then said that Kabul was ready to enter a "new phase" in building bridges and making peace with the Taliban.
FOLLOW THIS TOPIC