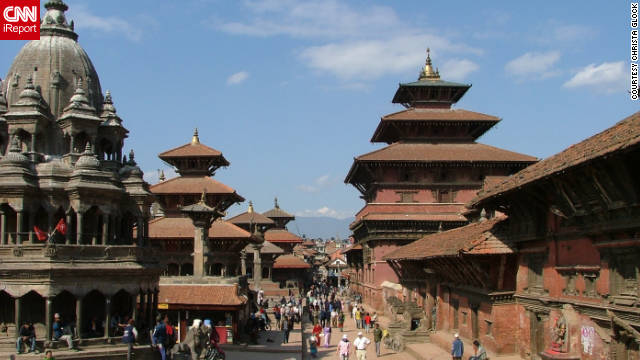 Picturesque Kathmandu, Nepal, is a fabled city that has long ranked among the most exotic in the world in many travelers' minds. It's also the starting point for many a journey through Nepal, although it's quite an adventure in itself. Christa Gockel, a resident of Ho Chi Minh City, Vietnam, visited Kathmandu in 2008 while on holiday in the country. "Kathmandu is the first place you see when you come to Nepal," she said. This photo shows Durbar Square in Patan, one of three such plazas in the Kathmandu Valley. They stand as legacies of the Old World, and are at the heart of Nepal's cultural and spiritual spheres.
Kathmandu is the capital of Nepal, and the largest city as well. It's a cultural and spiritual melting pot with many Hindu and Buddhist people, but plenty of other religions and cultures. While in Kathmandu, Gockel visited nearby places including the cities of Bhaktapur and Patan. She also went to the town of Pokhara, somewhat further away, and made the popular trip to Chitwan National Park near Bharatpur. The park is a few hours from Kathmandu.
Gockel said, "Although many people will feel overwhelmed by the activity, the many people, the chaos, noise and dirt, I loved it. It is very exotic and there are many places worth visiting." She said it's worth looking beyond the obvious. "My recommendation is always the same, no matter what place: certainly you should see the temples and the other places as mentioned in every travel guide, but if you really want to get a feeling for the place, take your time and just walk and observe everyday life. For me, this is the best part of traveling. Not some gilded palaces, but the people and their lives."
Barry Wenlock lives in Kathmandu and has led many treks through the Himalayas. He shared photos taken during the 15-day Dasain festival, the country's largest event. In this photo, a young woman is stringing marigold flowers in Durbar Square to get ready for the annual traditional event. The festival ran from September 28 to October 11 this year. Each day has a special name and theme. Wenlock noted that the seventh day of the festival, known as Fulpati, features celebrations of the military including marches and blessings of vehicles.
Don't be surprised if you see a few monkeys in Kathmandu. Swayambhunath, a complex of religious buildings, is colloquially known as the Monkey Temple. And for good reason: Parts of it are frequented by freely roaming holy monkeys. Gockel says there are so many things that make a visit to Kathmandu dear to her heart. "There is a special atmosphere in Kathmandu and the rest of Nepal," Gockel said. "It is -- despite all the chaos and noise -- a very peaceful place with very friendly people. You start relaxing immediately on arrival and will have a continous stupid smile on your face as long as you are there."
Thomas Cox shared this image of the Buddhist stupa of Boudhanath, a holy structure with eyes that watch over Kathmandu. In Buddhist culture, stupas are circular structures with a mound-shaped area in the center that typically contains holy relics. They are often constructed in a circular mandala design that is visible when viewed from above. The stupa is constructed to symbolize enlightenment, a central spiritual concept in Buddhism. Cox says he chose to visit Kathmandu because it conjured up so many images in his mind, and was mentioned by so many people as a faraway place, just like Timbuktu, Mali.
Prayer wheels can be found at the base of Boudhanath. "The Kathmandu that I encountered was not far off from what I thought it would be like," Cox said. "The city was rich in the mixture of many different cultures and religions. Shrines to both Buddhism and Hinduism were at almost every corner." Cox also visited the Pashupatinath temple on the banks of the Bagmati River. The complex is a holy pilgrimage site for Hindus.
Eleanor MacAllister of Edmonton, Canada, visited Nepal in 1985 and shared photos from her trip. She ate lunch in a building overlooking the Boudhanath temple and took this picture of the city view from there. Kathmandu was MacAllister's starting point for a long trip through Tibet and back. She said she never thought she'd ever visit Kathmandu or Tibet, but found herself there anyway and tried to soak in the exotic experience. She cautioned visitors that conditions could get dusty. "I've been to other places in Asia and had thought that there would be more modern, Western-type buildings in Kathmandu. The roads were narrow and in poorer condition than I had expected."
Gockel shared this photo of the colorful prayer flags that adorn many temples in Kathmandu. They can be found all over the Himalayas region in Nepal and Tibet and are thought to predate Buddhism.
Colorful cultural explorations in Kathmandu
Colorful cultural explorations in Kathmandu
Colorful cultural explorations in Kathmandu
Colorful cultural explorations in Kathmandu
Colorful cultural explorations in Kathmandu
Colorful cultural explorations in Kathmandu
Colorful cultural explorations in Kathmandu
Colorful cultural explorations in Kathmandu
Colorful cultural explorations in Kathmandu