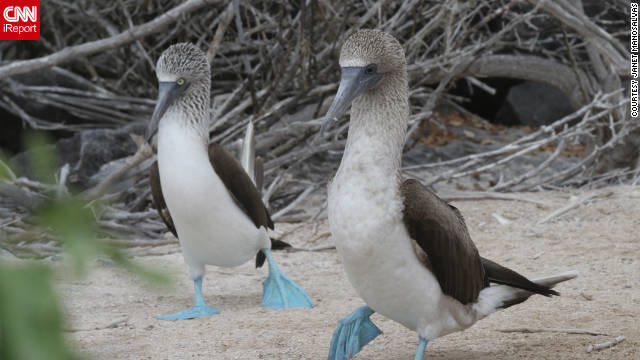 Two blue-footed boobies engage in a mating dance. The iconic birds are commonly associated with the islands. Charles Darwin observed the biodiversity of the islands and began to conceptualize the idea of evolution. Today, people still come to the Galapagos in search of the natural beauty and to see animals they might not see elsewhere. Janet Manosalvas lives in Coronodo, California, and Santa Cruz, Galapagos. She says she and her husband work in the Galapagos, so they live there part-time and run a vacation rental business. This has given Manosalvas many opportunities to photograph the creatures of the Galapagos.
A male giant land iguana basks in a beautiful day. Manosalvas says the islands are "majestic, but they are in danger" because of overbuilding. She says she believes this is because of locals and big companies, not tourists. Manosalvas says some folks cannot believe she lives on the islands. "Many people think you can only visit Galapagos by taking a cruise, but you can make any of the inhabited islands your destination, not just a short stop on a cruise."
Betty Halberstadt of Revere, Missouri, sent travel photos she and her son Jason took in the Galapagos. "Sally crabs don't bother with camouflaging themselves," she said. "Instead, they're dressed to the nines every day! They are fairly common to most of the Islands."
Christina Taylor of Del Mar, California, poses with a giant Galapagos tortoise. She says she found great adventure and many animal sightings, as well as great food, while visiting the Galapagos Islands. "The Galapagos Islands were just as amazing as I had expected! I saw the majority of animal species I had sought out to see. ... By far, the best part of getting to see all of these species, was that none of them had any fear towards humans. Sea lions would swim right up to you, birds would land right on you, and most wouldn't even move if they were in your way."
Rich Davi of Holland Township, New Jersey, shared this picture of a friendly-looking sea lion. Galapagos sea lions and fur seals breed primarily on the islands. "For me, being a biologist, it was the trip of a lifetime. From the time we arrived, it was fantastic." He traveled on a cruise ship that provided his meals and housing. Activities included snorkeling, nature hikes and photography.
Alex Price, 29, of Reston, Virginia, went to the Galapagos Islands with his wife for their honeymoon in 2010. Here, they bask in the sun as iguanas do. Iguanas are commonly found on the islands, so much so that some consider them a nuisance. The couple spent roughly half their trip on a boat "floating around the islands" and the other portion staying at the Royal Palms Hotel. Price says they made sure to visit the Charles Darwin Research Station on Santa Cruz Island.
Penguins? Yes. The Galapagos penguin lives the farthest north of all the penguins. Price saw these and other rare animals. "We spent five days on a catamaran called the Athalla cruising around the various islands," he said. "It was an unbelievable experience. We swam with sea lions, suntanned with sea iguanas and chilled with penguins." Price says he had plenty of tasty meals on the boat and a special honeymoon meal back on the island. But the highlight was seeing nature. "If you like animals and hiking, there is a ton to do."
Soumava Bandyopadhyay of Beaumont, Texas, photographed these frigate birds during his December 2009 visit. The males have a puffy red throat that they use to attract mates. Bandyopadhyay stayed on a 16-passenger yacht that provided accommodations and meals.
The iconic Galapagos tortoise roams the grass majestically. "The Galapagos Islands are unique in that you can see many endemic species, those found nowhere else on earth," Bandyopadhyay said. "The other remarkable thing is that the birds and animals are totally fearless. The birds will never fly away when you get close, and the animals, like the sea lions, iguanas and tortoises will keep approaching you. This makes it very easy to take nice photographs of these beautiful species."
Krupali Tejura of Los Angeles sent this picture of a red-footed booby from a visit in 2007. She's a radiation oncologist and was always fascinated with the islands and Charles Darwin, so she saved up for her first trip in 2002. "I was hooked. I travel the world, but this place holds a special magical place in my heart. Love it. Absolutely adore it." She did her more recent trip on a yacht tour group, and she's planning to take another trip in a few months.
Anne Sullivan, 23, of Indianapolis sent this photo of a blue-footed booby. She says she had lots of great adventures and animal sightings in the Galapagos Islands. "It exceeded my expectations," she said. "I couldn't believe how close we got to the animals. They weren't scared of us. I even saw several of the finches that Darwin talked about. It was interesting to try and catch a glimpse of the birds and their different beak shapes."
Sullivan shared several photos she took while underwater. Snorkeling and diving are popular activities on the islands, and you might get lucky and spot a turtle or two.
Iguanas sun on a rock. Robert Ondrovic of Pound Ridge, New York, says he has made two trips with the same expedition company -- one in 2005 and one in 2006. "The trips far exceeded my expectations and it was very interesting to see it well after Darwin penned his impressions. I can readily understand why Darwin developed 'The Origin of Species' after seeing the animals in their natural surroundings."
He was lucky to get this shot taken with a sea lion. "I just came out of the water after doing some snorkeling and underwater photography, and found a few new friends sitting near my towel and gear."
This iguana has six toes. Ondrovic loves the Galapagos Islands. "It is my absolute favorite place I have traveled in the world, and I am looking forward to returning. So few people have actually traveled there, so I wanted to share some of the sights with CNN readers and viewers, most of whom will never get to experience it in person."
Looks like this heron has found its lunch for the day: a marine iguana. Gil Koplovitz, 34, of Auburn, Alabama, got some nice up-close shots of animals while visiting the Galapagos Islands in August 2001. He is a postdoctoral research fellow in biology at Auburn University. The trip to the Galapagos was part of a six-month backpacking expedition through South America.
Like many travelers to the Galapagos, Koplovitz traveled around the islands by boat and saw plenty of marine life. "It has been my lifelong dream to visit the islands," he said.
The eight-day boat tour brought him face-to-face with many creatures, including iguanas.
Lyne Broszko of Montreal shot this adorable photo of a sea lion pup sunning itself on a Galapagos Islands beach in Ecuador. "All the sea lions have grown accustomed to having visitors on their islands, so we humans are only slightly annoying paparazzi to them," she said.
This young bird still has a soft down covering.
Animals of the Galapagos Islands
Animals of the Galapagos Islands
Animals of the Galapagos Islands
Animals of the Galapagos Islands
Animals of the Galapagos Islands
Animals of the Galapagos Islands
Animals of the Galapagos Islands
Animals of the Galapagos Islands
Animals of the Galapagos Islands
Animals of the Galapagos Islands
Animals of the Galapagos Islands
Animals of the Galapagos Islands
Animals of the Galapagos Islands
Animals of the Galapagos Islands
Animals of the Galapagos Islands
Animals of the Galapagos Islands
Animals of the Galapagos Islands
Animals of the Galapagos Islands
Animals of the Galapagos Islands
Animals of the Galapagos Islands