World Bike Festival highlights benefits of cycling around the globe
October 21, 2011 -- Updated 1115 GMT (1915 HKT)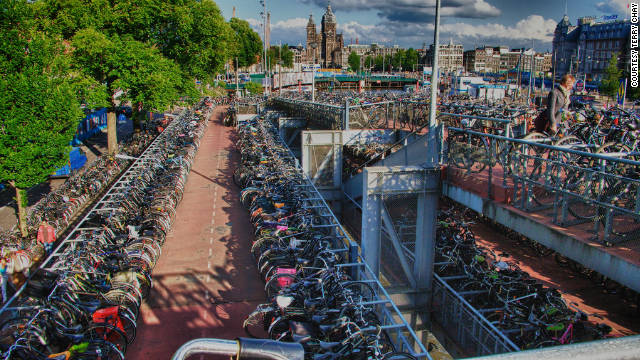 Amsterdam, the world capital for bicycle owners, needs a lot of bike parking around the city. According to Amsterdam Tourism Board, there are 600,000 bicycle owners in a city of approximately 750,000 residents.
In Nepal, bicycles can be used to transport an entire family. Here, a Nepalese cycle rickshaw and passengers drive on a street of Chitwan, some 170 km south of Kathmandu.
In France, the use of a velo (french for bicycle) system has been in place for many years and the activity has developed to a much-loved pasttime. Cyclists ride during the annual Fete du Velo (bicycle party) in Paris.
Two employees of private German postal service PIN ride their bikes on a snow-covered street in Berlin.
Several police forces around the world use bicycles as a means of transportation. In this instance, Australian Federal Police on mountain bikes patrol the courtyard of Parliament House in Canberra.
A convoy of cyclos carry a family members to a pre-wedding ceremony in Hanoi, Vietnam.
In the Netherlands, cycling has veered away from the traditional design. In recent years, 15 person fietscafes (beer bicycles) have become very popular.
Monster Track is a well-known, illegal race through New York City for bike messengers that involves racing to checkpoints on bikes with no brakes. Here, a competitor opens a door at the end of the race.
The Barclays Cycle Hire, nicknamed locally as the "Boris bike," after the current London mayor who implemented it, is a regular sight around the British capital.
It's common for charities and environmental groups to use bicycles during their protests and rallies. Here, Greenpeace join members of a local anti-nuclear group in the Philippines to deliver a petition opposing the use of nuclear power.
STORY HIGHLIGHTS
Changwon in South Korea will host the World Bike Festival from October 21 to October 24, 2011
The event is designed to raise awareness about environmental issues and carbon emissions
Cycling enthusiasts will be able to take part in an amateur race, bike parade and fashion show
(CNN) -- South Korea will open its roads for bicycle enthusiasts as the World Bike Festival starts in Changwon Friday.
The four-day festival is part of EcoMobility Changwon 2011, a larger assembly of business leaders; academics and international organizations who will come together to discuss how cities can reduce their carbon footprint in the future.
The festival will highlight the city of Changwon, a self-professed "environmental capital" and give a special focus to its bicycle sharing system called "Nearby Useful Bike, Interesting Joyful Attraction," or "NUBIJA."
The event aims to raise awareness of environmental issues and show visitors that cycling is good for the environment and enjoyable at the same time. Organizers hope to engage with visitors on ways of improving existing environmental protection activities that are in place around the globe. Keen cyclists will also be able to participate in a variety of events including a parade, fashion show, karaoke sessions and two 60-kilometer races.
In the gallery above, CNN puts a spotlight on how bicycles are used across the world.