STORY HIGHLIGHTS
The marriage of William and Catherine brought the succession back into focus
Sons and daughters of British monarchs will now have an equal right to the throne
Roman Catholics are still barred from holding the crown
Both the UK laws and those of 15 other Commonwealth states will have to be amended
London (CNN) -- Britain's Prince William and his wife Kate are expecting their first child after 19 months of marriage, the palace announced Monday.
But until 2011, any daughter born to the Duke and Duchess of Cambridge would not have enjoyed an equal right to inherit the British throne. Rules dating back centuries decree that the crown passes to the eldest son and is only bestowed on a daughter when there are no sons.
All this changed at an October 2011 meeting of the leaders of 16 Commonwealth countries in Perth, Australia, where they unanimously agreed to amend the succession rules.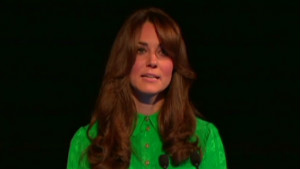 Kate Middleton expecting first child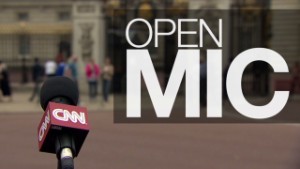 Open Mic: Royal baby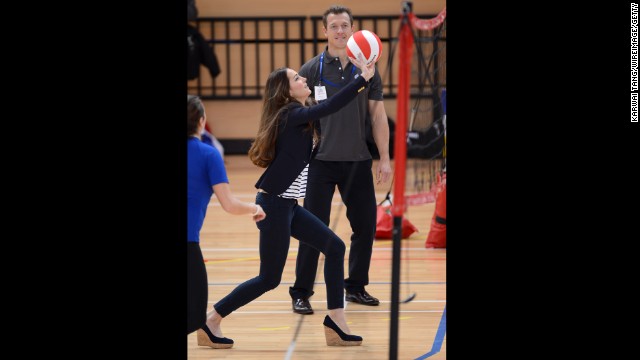 Catherine, Duchess of Cambridge, participates in a SportsAid Athlete Workshop in London on Friday, October 18. She showed up for the charity event in skinny jeans, a smart blazer and wedges. Click through to see more photos of her style through the years.
Catherine, Duchess of Cambridge attends the Tusk Trust Conservation Awards at The Royal Society on Thursday, September 12, in London.
Kate and Prince William start the Ring O'Fire Anglesey Costal Ultra Marathon In Holyhead, Wales, on Friday, August 30. It was Kate's first public appearance since the birth of Prince George.
Kate at the Ring O'Fire Anglesey Coastal Ultra Marathon on August 30.
Kate, has proved to be quite the fashionista since her relationship with Prince William catapulted her into the limelight.
Showing off her new 'do on November 27, she wore a green Mulberry dress to the opening of The Natural History Museum's Treasures Gallery in London.
Prince William and Catherine dress casually for a walk through the Danum Valley research center in Sabah, Malaysia, on September 15.
The duchess donned a white and gold gown by Alexander McQueen for a dinner hosted by Malaysia's head of state on September 13.
Wearing a white suit by Alexander McQueen, the Duchess of Cambridge arrived at Singapore's Gardens by the Bay on September 12.
She wore a Prabal Gurung dress while visiting the Istana in Singapore on September 11. "So xctd that I just stopped some strangers on the street n showed them the pic of Kate Middleton in our dres," Prabal Gurung tweeted that day.
Also on July 26, she and Prince William visited Bacon's College in London. The grey and white Hobbs dress she wore sold out quickly.
The Duchess of Cambridge stunned in a Jenny Packham gown at an event hosted by the British Olympic Association. The teal number, complete with a lace back, is just one of her many noteworthy looks.
Kate donned a belted emerald coat by Emilia Wickstead on St. Patrick's Day in Aldershot, England. She accessorized her ensemble with a gold shamrock brooch -- a royal heirloom, according to The Telegraph.
She ditched her usual heels and fascinator to play field hockey with Great Britain's women's team wearing tangerine-colored jeans.
Kate wore a printed Orla Kiely coatdress while visiting Rose Hill Primary School in Oxford. That day, Lucky magazine reported that the jacket had already sold out in stores and online.
Wearing a gray coatdress, the Duchess of Cambridge posed for pictures at the National Portrait Gallery in London.
Prince William kept his wife dry at the London premiere of "War Horse" on January 8, 2012. She wore a black lace Alice by Temperley gown and carried a black clutch.
Kate wore an Amanda Wakeley gown to a reception at London's Clarence House on October 26 2011.
Clad in Alexander McQueen, she arrived for BAFTA's Brits to Watch event in Los Angeles on July 9 2011.
Earlier that day, Kate attended the Foundation Polo Challenge wearing a knee-length, floral Jenny Packham dress.
Kate wore a green Diane Von Furstenberg frock in Los Angeles on July 8 2011.
That same day, she attended an event at the Beverly Hilton hotel wearing a knee-length Roksanda Ilincic dress.
On one of the first stops on Will and Kate's Canadian tour, the couple watched a rodeo demonstration in Calgary on July 7 2011.
Kate almost had a wardrobe malfunction when the pair arrived in Calgary that day. The skirt of her canary yellow Jenny Packham dress kept blowing up in the wind.
Kate kept it casual in Yellowknife, Canada, on July 6 2011.
Will and Kate, wearing a purple Issa dress, celebrate Canada Day in Ottawa.
Stepping out in another Jenny Packham gown, Kate attends a gala at London's Kensington Palace with William on June 9 2011.
Camilla, duchess of Cornwall, and Kate attend the Order of the Garter Service on June 13 2011. Kate wore a silver coat and fascinator.
Last but not least is Kate's stunning wedding dress. She wore the gown by Alexander McQueen designer Sarah Burton when she married William on April 29, 2011.
Kate, dressed in a red coat, and her then-fiancé visited the University of St. Andrews in Fife, Scotland, in February 2011. The couple met while studying at the university.
Will and Kate posed for photographs after announcing their engagement in November 2010.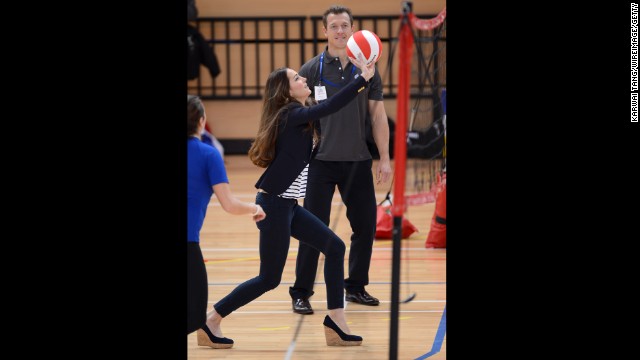 Photos: Kate's best looks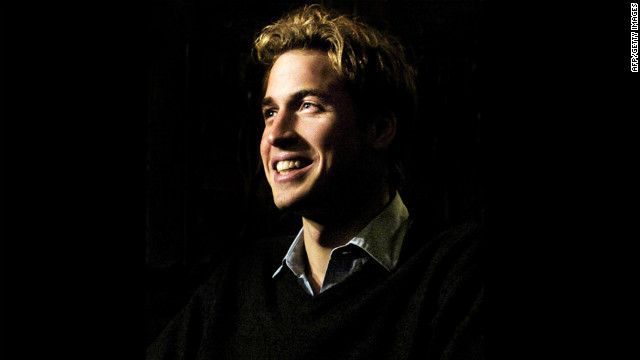 As the first-born child to the late Princess Diana and the Prince of Wales and second in line to the British throne, Prince Wiliiam has never been far from the public eye. Click through the gallery for a look back at every year of his life so far.
Prince Charles and Princess Diana leave St. Mary's Hospital in London with Prince William on June 22, 1982. A bulletin announced that the royal baby weighed 7 pounds, 1 1/2 ounces.
Prince William takes his first steps in public with his parents in the walled garden at Kensington Palace on December 14, 1983.
Accompanied by his nanny Barbara Barnes, Price William waves as he leaves St. Mary's Hospital after visiting his mother and his newborn brother, Prince Harry, on September 16, 1984.
From the balcony of Buckingham Palace, a young Prince William watches the Trooping of the Color in 1985 with Lady Gabriella Windsor, left, and Lady Zara Phillips.
Prince William waves from a carriage en route to the wedding of Prince Andrew and Sarah Ferguson on July 23, 1986.
Wearing a regulation school uniform, Prince William waves to the press on his first day at Wetherby School on January 15, 1987.
In 1988, Prince Charles and Princess Diana visit Palma De Mallorca, Spain, with their two sons.
Prince William and Prince Harry ride bicycles with their parents in 1989 while on holiday in the Scilly Isles.
On a private beach in 1990, Prince William shovels sand onto his mother. Photos of the young prince with his adoring mother were common as media interest swelled.
Prince William and Prince Harry wave from the deck of the Royal Yacht Britannia in 1991.
Princess Diana and Prince William wait for Prince Harry after attending the annual Easter Sunday church service in 1992 at St. Georges Chapel inside Windsor Castle.
Prince William grimaces after riding Splash Mountain at Disney World's Magic Kindom in Florida. He was with friends of the royal family on a three-day vacation in 1993.
Accompanied by Prince William, Princess Diana arrives at Wimbledon before the start of the women's singles final in 1994.
Queen Elizabeth II, Prince William and Prince Charles attend a service commemorating VJ Day outside Buckingham Palace in August 1995. The event was in honor of the day Japan surrendered to Allied forces, effectively ending World War II.
Prince Charles and Prince Harry, at left, stand for anthems as Prince William, right, looks around during the Wales-Scotland game in the 1996 Five Nations rugby championship.
At age 15, Prince William and his brother Harry, 12, bow their heads after their mother's funeral at Westminster Abbey on September 6, 1997. Princess Diana died in a car crash in Paris that August.
Prince William receives flowers from an adoring crowd in Vancouver on March 24, 1998. He was on a weeklong vacation with his father and brother, though they also made time for official engagements.
Britain's Queen Mother joins Prince Charles and his sons during an occasion marking her 99th birthday at her London residence in 1999.
Prince William hammers a log while helping construct walkways in a remote village in Chile during his Raleigh International expedition in 2000.
In 2001, Prince William, left, and Prince Harry take part in an exhibition polo match in Gloucestershire, England.
The royal family stand vigil besides the Queen Mother's coffin at Westminster Hall on April 8, 2002. Prince William, right, stands alongside Prince Harry, Princess Anne and Sophie of Wessex.
A London officeworker licks a first-class stamp that was issued to mark Prince William's 21st birthday in 2003. Commemorative coins were also minted for the occassion.
Prince William makes his water polo debut for the Scottish national universities squad in the annual Celtic Nations tournament in 2004.
In 2005, Prince William graduates from St. Andrews University in Scotland with a degree in geography.
Queen Elizabeth glances up at her grandson, right, as she inspects the parade at the Royal Military Academy in 2006. Prince William graduated as an Army officer and later went on to receive his Royal Air Force pilot's wings
Prince William and Prince Harry speak on stage with Sir Elton John, far left, during a concert they put on to celebrate Princess Diana on July 1, 2007. The event fell on what would have been their mother's 46th birthday and marked 10 years since her death.
Prince William sports a beard for the first time in public at a Christmas Day church service in 2008. He was clean-shaven by early January.
Prince William walks with a group of homeless people during a 2009 hike with Centrepoint, the United Kingdom's largest youth charity for the homeless. William became the patron of the organization in 2005.
During his first official overseas visit, Prince William is welcomed to Sydney with a traditional smoke ceremony by local Aboriginal elder Uncle Max in 2010.
After their wedding service, Prince William kisses his wife, Kate Middleton, on the balcony of Buckingham Palace on April 29, 2011.
Prince William throws a foam javelin as his wife, now the Duchess of Cambridge, stands at his side during a visit to Nottingham, England, on June 13, 2012. The couple were in the city as part of Queen Elizabeth II's diamond jubilee tour, marking the 60th anniversary of her accession to the throne.
The Duke and Duchess of Cambridge depart St. Mary's Hospital in London with their newborn son on July 23, 2013. Prince George was born a day earlier, weighing 8 pounds, 6 ounces.
Prince George and his parents celebrate his first birthday at a butterfly exhibition at the Natural History Museum in London on July 2.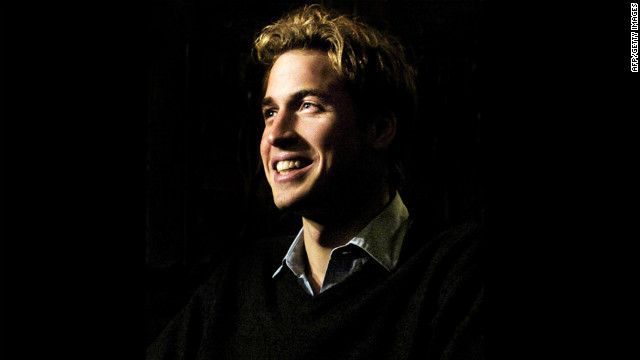 Photos: Prince William through the years
CNN examines the background to a controversial and long-running debate.
Latest: William and Catherine expecting royal child
What prompted the change?
The issue has been discussed in the UK for many years -- and changes have been proposed before -- but it requires an act of parliament and the agreement of the 15 other realms where British royalty is the head of state to alter the rules of succession.
Successive UK governments have failed to find parliamentary time to debate proposals to change the law. A spokesman at UK Prime Minister David Cameron's office said it had often been thought of as "too thorny and complicated to deal with quickly."
The marriage of William and Catherine in April 2011 brought the issue back into focus. David Cameron referred directly to the couple in his speech to Commonwealth leaders, saying the succession rules were "outdated."
"The idea that a younger son should become monarch instead of an elder daughter simply because he's a man... this way of thinking is at odds with the modern countries that we've all become," he said.
White House to royal couple: Congrats!
So what was agreed?
The leaders of the 16 Commonwealth countries that have Queen Elizabeth II as head of state unanimously agreed that sons and daughters of British monarchs will have an equal right to the throne. They also agreed that a future British monarch can marry a Roman Catholic -- something that is currently banned.
What was the historical basis for the old rules?
The tradition of favoring the male heir -- called male primogeniture -- goes back many centuries and can be seen in the extensive family tree of the British monarchy.
But a key law which governs the way British monarchs are chosen is the 1701 Act of Settlement which has its roots in the religious strife of the age. The official British Monarchy website explains that the act was designed to secure the protestant succession to the throne.
Royal commentator and former editor of the International Who's Who, Richard Fitzwilliams, explained that this has been a divisive issue ever since the English Tudor King Henry VIII split with the Catholic Church in Rome in the 16th Century, leading to decades of religious persecution.
The Act of Settlement decreed that no Roman Catholic or anyone married to a Catholic could hold the English crown. This is now to be amended so that an heir to the throne can still be monarch even if they marry a Catholic.
The British Monarchy website gives two examples of the current royal family who were removed from the line of succession because they married Roman Catholics -- George Windsor, Earl of St Andrews, and Prince Michael of Kent.
How are William and Catherine affected?
The changes mean that if the couple's first born is a girl, she will eventually become queen. Previously, a younger son would have taken precedence. However, this could be many years in the future. Prince Charles is first in line to the throne when Queen Elizabeth II dies, and his son William would ascend after his reign.
David Cameron's speech makes it clear that the new rules are not retroactive, so Prince Charles's eldest sibling, Anne, will not be in line to the throne in front of her younger brothers Andrew and Edward.
It also means that any heir born to the Duke and Duchess of Cambridge can marry a Catholic and retain the crown.
What isn't changing?
The British sovereign is also head of the Church of England -- part of the Anglican church -- and retains the title Defender of the Faith. David Cameron said at the 2011 meeting that "the monarch must be in communion with the Church of England because he or she is the head of that church." This would currently bar a Catholic holding the crown.
Prince Charles caused controversy in 1994 when he said in a TV interview that he would rather be seen as "defender of faiths" to include Catholic subjects of the sovereign which he described as "equally as important as the Anglican ones or the protestant ones." He went on to list other faiths as also being equally important.
What happens next?
David Cameron explained in his speech to Commonwealth leaders that "for historic reasons" the UK legislation needed to be published first but the necessary measures would be implemented at the same time across the Commonwealth.
However, the process is a complex one. The Downing Street spokesman said that in addition to the Act of Settlement, many other archaic laws would have to be amended -- these include the Bill of Rights 1689, the Coronation Oath Act 1688, the Acts of Union and the Royal Marriage Act 1772.
Each of the 15 other Commonwealth members would then have to amend their own legislation.
So which countries are affected?
The Commonwealth consists of 54 independent states, most of which have ties to the United Kingdom, but Queen Elizabeth II is head of state to only 16 of them including the UK. Those nations are Antigua and Barbuda, Australia, Bahamas, Barbados, Belize, Canada, Grenada, Jamaica, New Zealand, Papua New Guinea, St Kitts and Nevis, St Lucia, St Vincent and the Grenadines, Solomon Islands, and Tuvalu.