African leaders: Al-Shabaab operation 'historic opportunity' for security
November 16, 2011 -- Updated 1706 GMT (0106 HKT)
STORY HIGHLIGHTS
The presidents are confident the operation against Al-Shabaab will restore security
Kenyan troops entered southern Somalia in October
Al-Shabaab is linked to al Qaeda and considered a terrorist group by the U.S.
Nairobi, Kenya (CNN) -- The leaders of Kenya, Somalia and Uganda held a closed-door meeting in Nairobi Wednesday, reaffirming their commitment to military operations against the Islamic militant group Al-Shabaab in Somalia.
Presidents Mwai Kibaki, Sheikh Sharif Ahmed and Yoweri Museveni met for several hours in the Kenyan capital at State House, Kibaki's official residence.
In a joint communique after the meeting, the leaders "expressed confidence that the joint Kenya-Somali operation presents the region with a historic opportunity to restore stability and security in Somalia," Kenya's foreign minister said.
Kenyan forces entered Somalia in October after a rash of kidnappings Kenyan authorities blamed on Al-Shabaab, which has ties to al Qaeda and is considered a terrorist group by the United States.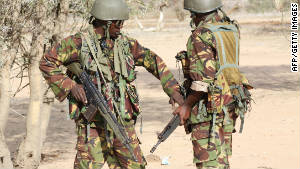 Kenya's Somalia foray could be quagmire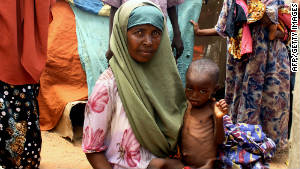 USAID head pleads for Horn of Africa aid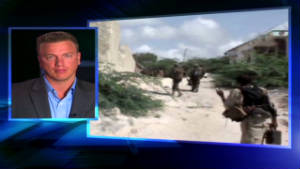 Fierce battle for Mogadishu
Kenyan officials say the kidnappings threatened security and constituted an attack on Kenyan sovereignty. Kenyan forces are ultimately seeking to take the Somali port city of Kismayo, described by the United Nations as a key stronghold and source of cash for Al-Shabaab.
But after more than a month, Kenya's operation has seen little direct conflict with Al-Shabaab, and has been beset with logistical delays. However, military officials remain confident they will be able to disable the group in southern Somalia.
Last month, Ahmed had questioned the wisdom of a Kenyan military incursion into Somali territory, but he has since said that he supports the operation.
The African Union-backed AMISOM force, meanwhile, is trying to consolidate power for Somalia's weak transitional federal government in Mogadishu, where Al-Shabaab is especially active in its battle against that government.
Uganda is the largest contributor of forces to AMISOM, and the three presidents called on other African countries that have pledged troops, but have yet to act, to "urgently fulfill their pledges." Most security analysts believe that more troops are needed for AMISOM to expand its reach of control.
While not much of substance was made public from the presidents' meeting, it was symbolically significant, with the three leaders standing together next to their flags in a show of unity.

Today's five most popular stories
Part of complete coverage on

Look at images that show how turmoil has unfolded in Somalia since the collapse of the government two decades ago.
February 23, 2012 -- Updated 1605 GMT (0005 HKT)

Nima Elbagir explores how Somali extremists recruit in London's "khat cafes," and how some expats are countering their tactics.
February 23, 2012 -- Updated 1603 GMT (0003 HKT)

Terror group Al Shabaab, which has connections to al Qaeda, has long flourished in eastern Africa. CNN's Tim Lister explains how.
February 23, 2012 -- Updated 0403 GMT (1203 HKT)

Kenya's military marched into Somalia and have been there for months. CNN's David McKenzie reports.
February 22, 2012 -- Updated 1740 GMT (0140 HKT)

A mom tells how her teen son living in a Kenyan slum was one of at least six persuaded to join al-Qaeda-linked Al Shabaab.
February 22, 2012 -- Updated 1654 GMT (0054 HKT)

Somalia's Al-Shabaab brushes aside accusations it is recruiting child soldiers, saying Islam considers people to be adults at 15.
February 22, 2012 -- Updated 2252 GMT (0652 HKT)

Somalia's prime minister tells CNN the country needs up to $10 billion from the international community.
February 22, 2012 -- Updated 1442 GMT (2242 HKT)

CNN's Zain Verjee reports on the use of "pirate scarecrows" and other methods to avoid pirates in dangerous waters.