STORY HIGHLIGHTS
U.S. golfers take a 13-9 lead over the Internationals into Sunday's singles
Americans extended lead to 11-6 as Tiger Woods earned first point in morning
But former world No. 1 was beaten at the final hole in afternoon fourballs
Y.E. Yang and Kim Kyung-Tae defated Woods and Dustin Johnson in Melbourne
(CNN) -- Y.E. Yang was delighted to earn revenge over Tiger Woods on Saturday and give the International team hope of ending the United States' domination of the Presidents Cup golf event.
The South Korean is best known for ending Woods' record of never losing a major tournament after leading going into the final round when he won the 2009 PGA Championship.
The American thrashed him in singles as the U.S. retained the Presidents Cup later that year, and earned his first point of the 2011 tournament in Australia when he and Dustin Johnson beat Adam Scott and K.J. Choi 3 & 2 in Saturday's morning foursomes.
That victory helped Fred Couples' team extend their overnight lead from 7-5 to 11-6 after winning four of the five matches.
Woods loses again but Americans maintain Presidents Cup lead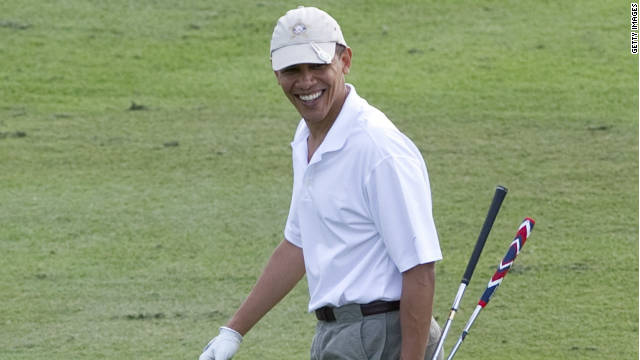 Keen golfer President Obama was honorary chairman for the 2009 Presidents Cup. He was on the golf course on the morning of the killing of Al-Qaeda leader Osama Bin Laden.
Australia's Prime Minister Julia Gillard is the first woman to accept the role of honorary chairman, taking the helm for this week's event in Melbourne.
South Africa's then President Thabo Mbeki holds aloft the Presidents Cup with 2003 team captains Jack Nicklaus and Gary Player.
Dwight Eisenhower was so addicted to golf that he had a putting green installed in the grounds of the White House.
Former U.S. President Gerald Ford, seen here with Jack Nicklaus, was the first honorary chairman of the Presidents Cup in 1994.
William Taft was the the first president to openly admit to his love of golf, which had previously been depicted as a sport for the rich.
In 2000, Bill Clinton became the first sitting U.S. President to accept the invitation to become honorary chairman of the tournament.
Like his father before him, George W. Bush was a common face on the golf course, usually with the media in tow. In 2005, he was also the honorary chairman.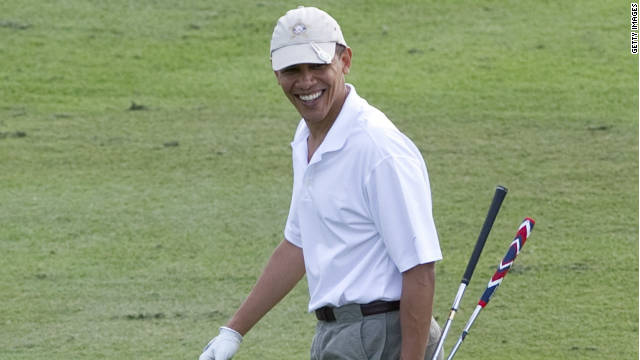 Golfing presidents
But Greg Norman's Internationals fought back to reduce the deficit to 13-9 ahead of Sunday's 12 singles matches, with Yang and compatriot Kim Kyung-Tae beating Woods and Johnson 1-up at the final hole.
"It's always good to have a win. Having it over Tiger is an added perk, definitely," Yang said.
"It's nothing personal, but it's good to come back and have a win after 2009 in singles. Hopefully it's a continuing streak."
Woods blamed his putting after suffering his third defeat at Royal Melbourne Golf Club.
"I played well today, so did DJ," he said. "Unfortunately, we just didn't make enough putts. It's all about making putts in match play, and we didn't do that. Hit a lot of good ones, though."
Woods and Stricker hammered on opening day
Couples could have given Woods another crack at Yang, but instead chose to pit the former world No. 1 against Aaron Baddeley in the penultimate singles match. The 14-time major champion and Johnson were beaten by Baddeley and fellow Australian Jason Day in Friday's fourballs.
It's always good to have a win. Having it over Tiger is an added perk, definitely
Y.E. Yang
Veteran Steve Stricker, who partnered Woods in a tournament record-equaling defeat on Thursday, will face Yang in the final match.
"You know, he played with Aaron Baddeley last week, I believe, in Sydney and they had a great time," Couples said of Woods. "You know, we wanted Tiger to play Badds, not for any reason. We just sat there and looked at that."
Kim will play in the opening match against Webb Simpson, who suffered his first defeat this week in the afternoon.
Johnson will take on Masters champion Charl Schwartzel of South Africa, Simpson's playing partner Watson faces Japan's Ryo Ishikawa, and Bill Haas is up against Australia's 2006 U.S. Open champion Geoff Ogilvy.
Hunter Mahan plays Day, Nick Watney lines up with veteran Choi, and the unbeaten Mickelson returns to action against world No. 7 Scott after being rested for the afternoon fourballs.
Matt Kuchar faces two-time major winner Retief Goosen, whose fellow South African Ernie Els plays another veteran in Jim Furyk, while the 10th match is between two more experienced players -- David Toms and Australian Robert Allenby, who were both also rested in the afternoon.