Yemen clashes rage on after president quits
November 24, 2011 -- Updated 1646 GMT (0046 HKT)
STORY HIGHLIGHTS
NEW: An official denies the government is responsible for deaths of protesters
At least five people are killed by pro-government gunmen, medics say
Protests are bigger than expected a day after the president steps down
Demonstrators want Ali Abdullah Saleh to face trial
Sanaa, Yemen (CNN) -- At least five people were killed in Yemen when pro-government gunmen shot at anti-government protesters in the capital, medics in Sanaa's Change Square told CNN Thursday.
The violence came a day after President Ali Abdullah Saleh agreed to step down from power after months of protests against his 33-year rule. He became the fourth leader to leave office as a result of the Arab Spring unrest that has roiled much of the Middle East and North Africa this year.
Protests against the Yemeni government Thursday were bigger than some expected given Saleh's agreement to transfer power, with youth saying their demands have not yet been met.
At least 41 people were injured, including 27 from gunshot wounds and the others from baton beatings, medics said. Three of the wounded are currently in critical condition.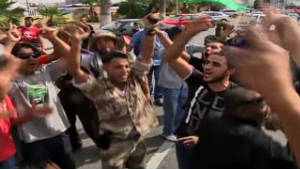 The Arab Spring and the role of Islam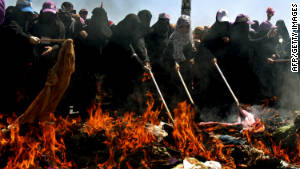 Yemeni women burn veils in protest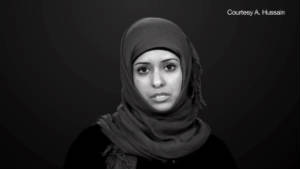 Yemen's youth continue calls for change
A senior Interior Ministry official denied that the government was responsible for the attacks.
"The protesters were attacked but they were not attacked by government forces. We will investigate this," said the official, who asked not to be named because he is not authorized to speak to the media.
The official conceded that many people were "angry that Saleh signed the power transfer proposal."
"Such attacks were expected, though we tried to prevent them," said the official. "The opposition is trying to damage (the) reputation of the current government. Anything that happens is always blamed against the ruling family without them even investigating the case."
Heavy gunfire continued for more than 30 minutes on Zubairy Street, when youth marched to condemn the immunity given to Saleh. They vowed to continue their revolution until Saleh is tried for his crimes.
"He is the reason for the deaths of more than a thousand innocent youth in Yemen this year and now the opposition wants to give him immunity," said Mohammed Mosleh, a youth activist who participated in Thursday's march.
"The government planned today's attacks," he charged. "We will not stay quiet..."
He said the opposition does not represent all Yemenis and should not have agreed to give Saleh immunity.
Protesters in Sanaa said they saw the gunmen escape the scene of the attack using government security vehicles.
Protests continued, meanwhile, in 15 provinces throughout the country.
Government forces also attacked protesters in Taiz province Thursday, eyewitnesses said, injuring three as they were marching calling for Saleh to face justice in the International Criminal Court.
"The killer must not be forgiven," youth protesters said in Taiz.

Today's five most popular stories
Part of complete coverage on
Unrest in Yemen
November 24, 2011 -- Updated 1113 GMT (1913 HKT)

After months of bloodshed, intrigue and revenge, President Ali Abdullah Saleh has finally stepped down. But Yemen's future is far from certain.
November 23, 2011 -- Updated 1813 GMT (0213 HKT)

Ali Abdullah Saleh clung to power in Yemen for 33 years, navigating -- and even channeling -- the country's complex tribal power structure.
November 17, 2011 -- Updated 1201 GMT (2001 HKT)

As well as joining the uprising against incumbent president Ali Abdullah Saleh women are fighting to enjoy the same rights as men.

Are you in a country affected by unrest? Send iReport your images, videos, and stories -- but don't do anything that could put you at risk.
October 19, 2011 -- Updated 0916 GMT (1716 HKT)

Yemeni anti-government activists have turned to the internet and an online video campaign to draw attention to their fight.

Click on countries in CNN's interactive map to see the roots of their unrest and where things stand today.