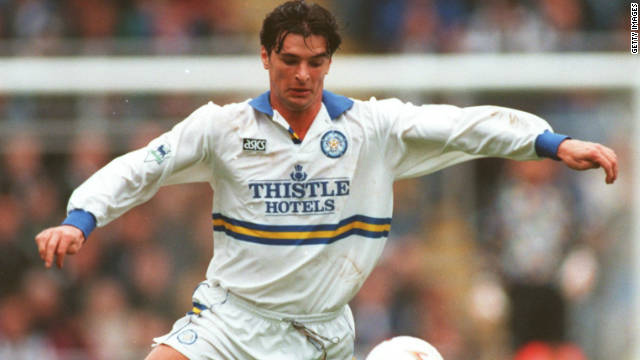 Gary Speed started his career at Leeds United, where he was part of the team which won the English First Division in 1992.
Speed then moved to Everton, the team he supported as a boy, making over 50 English Premier League appearances across two seasons with the Goodison Park outfit.
Speed played in two FA Cup finals for Newcastle, against Arsenal in 1998 and Manchester United in 1999, losing both.
Under the late Bobby Robson, Speed played in the European Champions League for Newcastle, congratulating Alan Shearer here on his goal against Inter Milan. Shearer said he was "proud to call Gary Speed a friend."
Speed remains Wales' most capped outfield player. He represented his country 85 times over a 14-year period but never reached a major tournament.
Speed moved from Newcastle to Bolton in July 2004, becoming the first player to make 500 Premier League appearances during his four years at the Reebok Stadium.
Speed dropped down to the second tier of English football with Sheffield United in January 2008 and later became manager of the club.
Speed became manager of Wales in Decemebr 2010. One of his first games was against Fabio Capello's England, a game Wales lost 2-0. After dropping to a record low of 117th in the FIFA rankings, Speed's side then won three games in a row to climb to a ranking of 45th.
Tributes to Speed appeared at all the clubs he represented, like here at Everton's Goodison Park stadium in Liverpool.
Tributes swamped Leeds United's Elland Road ground as fans struggled to take in news of his death.
STORY HIGHLIGHTS
Wales manager Gary Speed was found dead at his home on Sunday
Speed enjoyed a long playing career making 535 English Premier League appearances
He took charge of the Welsh national side last year and was credited with a recent revival
Speed's agent and friend tells CNN he may never know why Speed took his own life
London (CNN) -- Gary Speed's agent and friend Hayden Evans has told CNN the reasons why the Wales football manager took his own life may never be known.
Speed's death provoked shock and disbelief within the world of soccer after his body was found at his home on Sunday morning.
The 42-year-old had a long and distinguished playing career, making 535 appearances in the English Premier League for clubs including Leeds United, Everton, Newcastle United and Bolton.
He also appeared 85 times for Wales -- a record for an outfield player. He was appointed manager of the national side in 2010 and had recently inspired Wales to a best-ever world ranking of 45.
Welsh international manager Speed found dead
An inquest into Speed's death was opened and adjourned at Cheshire Coroner's office Tuesday, when it was confirmed he had hung himself. The inquest heard that Speed's wife Louise had found his body at around 7am on Sunday.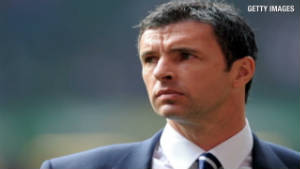 Agent's shock at Gary Speed's death
Evans, who had Speed as best man at his wedding, told CNN World Sport the reason behind his friend's death may forever remain a mystery.
Asked what might have been the cause for Speed's suicide he said: "I genuinely don't know -- I haven't got a clue. It's the shock, that's what makes it all the more difficult to accept and comprehend.
"It's that sense of shock, whatever has gone on, I just don't know whether that will rest with Gary in peace or not."
Memorials for Speed have appeared at many of his former clubs with fans leaving flowers, shirts, scarves and flags at the stadiums of Leeds, where Speed started his career, at Everton, the team he supported as a boy, and Newcastle, with whom he played in the prestigious European Champions League.
On Tuesday the Premier League announced there would be a minute's applause before every weekend match in Speed's honor. In a statement they called him an "iconic player."
"We're beginning to realize what an impact he did have on most people he crossed paths with," Evans added.
It's that sense of shock, whatever has gone on, I just don't know whether that will rest with Gary in peace or not
Hayden Evans, friend of Gary Speed
He also said Speed's wife and his two young sons had been overwhelmed by the support they had received from around the world.
"I guess if you want to try and find any positives it is that they are a strong family unit, they support each other and supported Gary throughout his career, every move he ever made," Evans said.
"It's that strength that I'm trying to tell them will ultimately see them through. They'll never ever get over it but it will see them through."
It has been suggested in some quarters that Speed may have suffered from depression or some other form of illness, but Evans says none of his family or friends ever saw any evidence to back the theory.
He added: "I'm no expert, but the people close to him, the people that socialized with him, saw him and talked to him every day, not one of us had any detection of any signs of depression.
Speed appeared on a football show on Saturday and spent time with former colleagues, Gary McAllister, with whom he played at Leeds, and ex-England and Newcastle captain Alan Shearer.
Evans added: "I had texts from Gary on Saturday and it was just everything as normal."