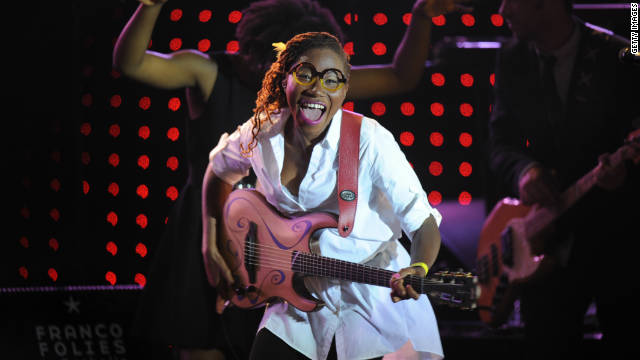 Nigerian singer, Asa, is the latest African musician to hit it big with audiences in her home continent and beyond. The 29-year-old artist has a growing following in Europe and North America and has opened shows for pop royalty such as Beyonce and Snoop Dogg.
Somalia born rapper K'naan received international acclaim for his 2006 album, The "Dusty Foot Philosopher." He has since toured with Lenny Kravitz and collaborated with British guitar pop group, Keane.
Nigerian singer songwriter, Nneka, says she only started singing in 2005. She has since made up for lost time; winning a MOBO award in 2009 and touring with the likes of Nas and Damien Marley.
Another of Nigeria's most popular contemporary musicians. 2Face Idibia found global fame with his hit single, African Queen, in 2006. He has since been recognized with international music awards from MOBO and MTV.
Dubbed "Ghana's Bob Marley," Rocky Dawuni has performed to audiences across the world as well as working with musical legend, Stevie Wonder.
Amadou et Mariam have come a long way since meeting at Mali's Institute for the Young Blind in the 1970s. The musical duo have received international plaudits for their eclectic sounds and have supported both U2 and Coldplay on their world tours.
Senegal's Youssou N'Dour (right) has been one of Africa's leading and most recognizable musicians for more than two decades. Here he performs alongside rock legends Bono and Bob Geldof in Germany, 2007.
Another popular Malian export, Salif Keita is credited with being one of the founders of the Afro pop genre. He was also the first African band leader to be nominated for a Grammy award.
Ladysmith Black Mambazo sprung to global fame after collaborating with Paul Simon on his multi award-winning album, "Graceland." The South African choral group have since achieved musical recognition in their own right, selling millions of records worldwide.
Grammy award-winning singer, Cesaria Evora, is the most famous musical export from the Cape Verde Islands. She has sold millions of records worldwide and is affectionately know as "the barefoot diva," due to her penchant for appearing on stage without footwear.
Afro popstars -- Asa
Afro popstars -- K'naan
Afro popstars -- Nneka
Afro popstars-- 2Face Idibia
Afro popstars--Rocky Dawuni
Afro popstars--Amadou et Mariam
Afro popstars--Youssou N'Dour
Afro popstars--Salif Keita
Afro popstars --Ladysmith Black Mambazo
Afro popstars --Cesaria Evora