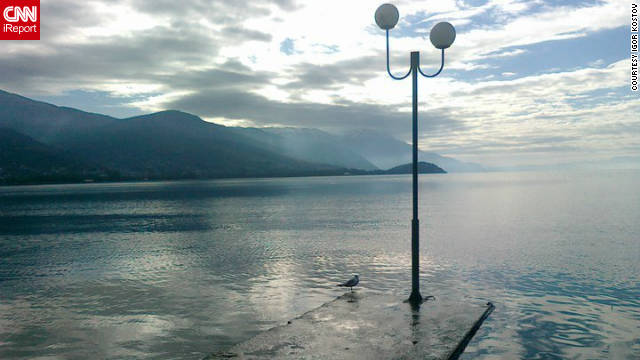 This picture of Lake Ohrid, a UNESCO World Heritage Center, was taken by Macedonian Igor Kostov. He says climate change has affected his country. "There (are) lot of problems with lack of rain, but pollution, forest degradation, no control of city building, disappoint me," he adds.
Dingjin took this photo of West Lake, in Hangzhou, China. He says: "I think you can't find another place with such a beautiful landscape like here on this Earth." But he says global warming has affected the area, with some of the wild species around the lake decreasing in number.
Deanna Rodrigues took this image of Niagara Falls in the winter. She says: "Global warming is causing climatic changes in the region," adding that spring has been arriving earlier than usual, summers are getting warmer and winters more severe.
Kevin Brooks captured this striking panorama of Salzburg. "Climate change has settled in on the region and the magnificent winter season is having a progressively shorter span," he says. He adds: "The winter period is most beautiful in the town center where a winter carnival takes place each year."
Caelia Astrid says Belitong Island is still untouched by tourists, and has pristine scenery. But she says the weather is getting hotter and the dry season seems longer. "The weather changes affect the fishermen, and also the sea water," she adds.
Lake Walyungup, a salt lake in Western Australia, was photographed by Gabby Lewis. She says the sparse environment supports wildlife including the black swan, Western gray kangaroos and some freshwater long-necked tortoises. But she says: "I have watched the water levels of the lake decline over the past 10 years that I've been in the area and believe it's because of the declining winter rainfall."
This snap of the Mlilwane Game Reserve, in Ezulwini, Swaziland, was taken by missionary Michael Todd Goodling. Goodling says: "The heavy wind patterns that normally come in July never came until October. Now the rainy season is off to a late start. They are saying at least a full month delay. Recently the Swaziland Weather Service reported this is all due to climate change."
Niena Sevilla took this image of Tabuk Island, "Just one of the amazing wonders that can be seen at my hometown Palompon, Leyte Phillipines," she says. "It is very important for us to keep it from climate change as it is rich with sea creatures like corals, fishes, clams, as well as migratory birds and bats."
The city park in the Macedonian capital of Skopje is a favorite spot for Stefan Nikovski. "This area is a place where I often go to look at the reflection in the water and just relax from everything else," he says. "Climate change affects everything everywhere. It is important to protect this area because it is the only park we have," he adds.
Jay Kalajian photographed these man-made waterfalls in Nockamixon State Park. He says: "The thing I noticed the most during summer low-water conditions is an intense algae growth on the lake. To me this seems due to changing weather patterns." He adds: "I know this beautiful lake and surrounding area need to be protected. It is a place that brings the joy of nature to so many people of all ages. It provides an environment for wildlife."
Lorena Isla took this image of a place close to Yaxhilan, in Chiapas. She says floods have left a big scar on the region. "Chiapas has amazing waterfalls, lagoons etc," she says. "I would love that the state of Chiapas would remain as beautiful as it is and never change," she adds.
This volcanic mountain range in eastern Romania was photographed by Natalie Montanaro. She describes it as a "serene place," but says climate change has led to flooding. "This affects the people who live in the valleys in ways that impact their daily lives," she says.
Markku Rainer Peltonen took this photo of Fuerteventura. He says climate change threatens the island's desert and semi-deserts, and adds: "Fuerteventura's ecosystem is sensitive because of erosion, too. The island's fast-growing tourism may also leave negative traces with regards to its unique landscape, fauna and flora."
Jerry Gonzales says Port Taranaki, in New Plymouth, New Zealnd, is a beautiful area and adds it even offers the chance of an encounter with blue penguins, sea lions, and whales. "Global warming is affecting many parts of the world. It makes the sea rise, and when this happens, the low-land islands will be affected and the sea creatures will also suffer," he says.
Jean Lindsay photographed this cabin by a lake in the foothills of the Adirondacks, where her family have been going for decades. She says she enjoyed the simple lifestyle there, but she says "air pollution has taken its toll on the pines and also aquatic life."
Lake Ohrid, Macedonia
Hangzhou, China
Niagara Falls, USA/Canada
Salzburg, Austria
Belitong Island, Indonesia
Lake Walyungup, Australia
Mlilwane Game Reserve, Swaziland
Tabuk Island, Palompon, Philippines
Skopje City Park, Macedonia
Nockamixon State Park, Pennsylvania, USA
Chiapas, Mexico
Harghita Mountains, Romania
Fuerteventura, Canary Islands
Port Taranaki, New Zealand
Adirondacks, New York State, USA